Venezuelan stylist, not Lisa Marie Presley, authored pro-vaccine post
Following Lisa Marie Presley's death on January 12, 2023, anti-vaccine activists and other social media users claimed the American singer authored a lengthy Facebook post in 2022 about getting the Covid-19 vaccine. This is false; the screenshotted post shared online came not from the daughter of the legendary rock star Elvis Presley, but from an unrelated fashion stylist from Venezuela also named "Lisa Marie."
"I wonder what Lisa Marie would tell people today if she were still alive?" said Steve Kirsch, an American entrepreneur who has spread misinformation about Covid-19 and the vaccines, in a January 13 tweet that has since been deleted and corrected.
Screenshot from Twitter via archive.is taken January 17, 2023
Another tweet added: "Lisa Marie Presley #DiedSuddenly after suffering a heart attack! She said she had NO Regrets after taking the Covid-19 'Vaccine' and even recommended it to others!!"
The posts and others like them show a screenshot of the text from a March 12, 2022 Facebook post made by a user named "Lisa Marie."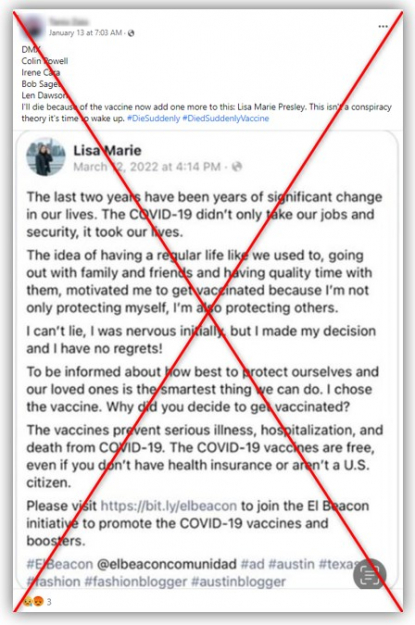 Screenshot from Facebook taken January 17, 2023
The Facebook post says: "The idea of having a regular life like we used to, going out with family and friends and having quality time with them, motivated me to get vaccinated because I'm not only protecting myself, I'm also protecting others. I can't lie, I was nervous initially, but I made my decision and I have no regrets! To be informed about how best to protect ourselves and our loved ones is the smartest thing we can do. I chose the vaccine. Why did you decide to get vaccinated?"
"The vaccines prevent serious illness, hospitalization, and death from Covid-19," it continues. "The Covid-19 vaccines are free, even if you don't have health insurance or aren't a U.S. citizen."
Posts attributing the pro-vaccine message to Lisa Marie Presley spread soon after her mother Priscilla Presley, Elvis's wife for six years until they divorced, announced on social media that her daughter was rushed to the hospital, and later in a statement to US media outlets that she had died. She had suffered a cardiac arrest and died at a hospital in Los Angeles, California.
But the post promoting the vaccines was not shared by Presley; the "Lisa Marie" who wrote it is a personal shopper and freelance fashion stylist named Lisa Marie Borjas, according to her social media profiles and globetrotting posts. Borjas told AFP she is from Caracas, Venezuela.
The original Facebook post included photos of Borjas in a green top -- pictures that were cropped out of many of the screenshots shared online. Borjas shared an identical post on Instagram.
"I am willing to confirm that it was me who wrote that post," Borjas said in a Spanish-language email, which AFP translated into English.
Presley's verified Facebook and Instagram accounts show no posts mentioning the Covid-19 vaccine.
AFP sent enquiries to representatives for Priscilla Presley and actress Riley Keough, Lisa Marie Presley's daughter, but no responses were forthcoming.
The singer's passing is the latest to be targeted by anti-vaccine advocates, who have exploited the deaths of celebrities such as actress Betty White, sports journalist Grant Wahl and Queen Elizabeth II -- as well as the on-field heart problems of athletes including Buffalo Bills safety Damar Hamlin or Danish footballer Christian Eriksen -- to promote baseless claims about the Covid-19 vaccines causing death and injury.
Such claims have been fueled by a November 2022 movie from far-right radio host Stew Peters that advanced conspiracy theories about the vaccines being a tool for mass depopulation.
The US Centers for Disease Control and Prevention (CDC) is monitoring some rare "adverse events of interest" reported after Covid-19 vaccination -- including heart conditions that can lead to sudden cardiac death, such as myocarditis. But such ailments are far more common following Covid-19 infection, and the CDC says there is no evidence the shots are killing people en masse.
"Statements that imply that reports of deaths following vaccination equate to deaths caused by vaccination are scientifically inaccurate, misleading, and irresponsible," the agency said in a January 4 email to AFP. "Covid-19 vaccines are undergoing the most intense safety monitoring in US history. To date, CDC has not detected any unusual or unexpected patterns for deaths following immunization that would indicate that Covid vaccines are causing or contributing to deaths."
Sarah Ardalani, public information officer for the Los Angeles County Department of Medical Examiner-Coroner, told AFP in a statement that an autopsy on Presley has been completed, but a ruling on the cause of death was deferred, meaning the medical examiner is awaiting more information before making a determination, including tests.
The office declined to comment on the internet speculation surrounding Presley's death.
Presley had a family history of heart problems and battled addiction and loss, including the death of her father Elvis when she was nine years old, the death of her former husband, the pop singer Michael Jackson, and the death of her son Benjamin Keough by suicide in 2020.
AFP has debunked other misinformation blaming the vaccines for various celebrity deaths, including here, here and here.