Grant Wahl died from aortic aneurysm, not vaccination, wife says
Social media accounts associated with a widely discredited anti-vaccine film are claiming American sports journalist Grant Wahl, who collapsed while covering the World Cup in Qatar, died from Covid-19 vaccines. This is false; an autopsy determined the acclaimed football writer died from a rupture to the main artery that carries blood away from the heart, according to a statement from his wife.
"The Covid-19 vaccine killed Grant Wahl," says a December 14, 2022 tweet from the account associated with "Died Suddenly," the November 2022 movie from far-right talk show host Stew Peters that drew millions of views as it advanced conspiracy theories about the vaccines being a tool for mass depopulation.
Similar claims popped up elsewhere on the internet, from Facebook to the messaging app Telegram.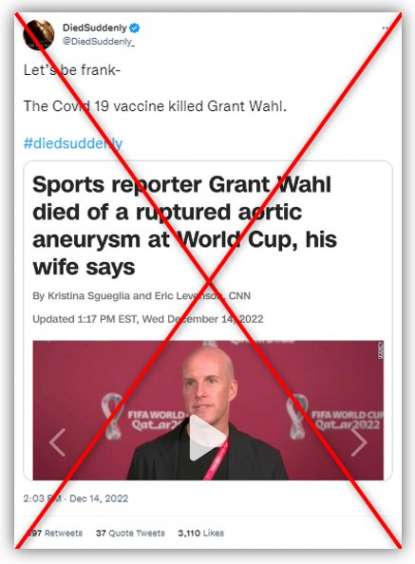 Screenshot from Twitter taken December 15, 2022
The claims come after Wahl, 49, collapsed in the press box during the quarter-final World Cup match between Argentina and the Netherlands and died on December 9. Best known for his reporting on football, Wahl spent much of his career with Sports Illustrated, where he wrote the iconic cover story on then-teenager Lebron James.
In 2021, Wahl praised the Covid-19 vaccines on Twitter and shared that he had received his first dose of the two-shot Pfizer product.
But his wife, Celine Gounder, a clinical associate professor of medicine and infectious diseases at New York University, rejected the assertions that the vaccines were responsible for his death.
"An autopsy was performed by the New York City Medical Examiner's Office," said Gounder, who previously served on US President Joe Biden's Covid-19 advisory task force, in a statement posted to Wahl's Substack newsletter website.
"Grant died from the rupture of a slowly growing, undetected ascending aortic aneurysm with hemopericardium. The chest pressure he experienced shortly before his death may have represented the initial symptoms. No amount of CPR or shocks would have saved him. His death was unrelated to Covid. His death was unrelated to vaccination status. There was nothing nefarious about his death."
Days before his death, Wahl wrote that cold symptoms he had been feeling while reporting from Qatar had turned into "a new level of pressure and discomfort" in his upper chest. He said he had tested negative for Covid-19 and a medical clinic at the World Cup media center believed he had bronchitis.
AFP reached out to Gounder for additional comment. No response was forthcoming, but she told the New York Times that she posted about her husband's autopsy in part because she "wanted to make sure the conspiracy theories about his death were put to rest."
Wahl's brother Eric, who initially said he suspected foul play but later said that was not the case, added in a tweet: "Please, *please,* stop with the vaccine nonsense. Because that's what it is: absolute nonsense. And it's an insult to our family as Grant's wife is an epidemiologist."
Doctors say condition not linked to Covid-19
The aorta is the body's main artery responsible for carrying blood away from the heart. An aneurysm is an abnormal expansion of a blood vessel that causes it to balloon outward, sometimes to the point of rupturing, according to Johns Hopkins University, the Cleveland Clinic and other university and medical sources.
The ascending aortic aneurysm that spurred Wahl's death is not related to the Covid-19 shots, experts told AFP.
"There is no known association between ascending aortic aneurysm and Covid-19 vaccination," said Alan Braverman, a professor of medicine and director of the Marfan Syndrome Clinic and Center for Thoracic Aortic Disease at Washington University in St. Louis on December 15.
Health authorities recommend the vaccines and say they are safe and effective at preventing severe illness and death.
The claims about Wahl's death were also rejected by Marion Hofmann Bowman, a clinical associate professor of cardiology at the University of Michigan who studies aortic aneurysms and dissections: a condition that occurs when pressure from pumping blood splits the layers of the artery wall and causes blood to leak.
In a December 16, 2022 email, Bowman said she has "not seen any evidence that the Covid vaccine is in any way linked to aortic aneurysm or dissection."
Concerns about myocarditis -- an inflammation of the heart muscle reported in rare cases after Covid-19 vaccination -- have caused many patients to seek cardiac imaging for minimal symptoms, Bowman said. But she added: "There are no reports published about new aortic aneurysms developing in proximity to the Covid vaccine, despite increased heart and aortic imaging."
Braverman said: "Underlying diseases of the aorta, including genetic conditions and diseases that relate to degeneration of the aorta," are typically responsible for the type of aneurysm suffered by Wahl. "Receiving a Covid-19 vaccination is not a risk factor for acute aortic dissection."
AFP previously debunked other falsehoods about public figures dying from Covid-19 vaccines, including actors Bob Saget and Betty White, baseball legend Hank Aaron, and boxer Marvelous Marvin Hagler.