UK cardiologist misleads on Covid-19 vaccine safety
A cardiologist from the United Kingdom says Covid-19 vaccines should be suspended because they pose a greater threat than the virus itself. This is false; experts say his research misleads on the risks of vaccination by cherry-picking evidence and relying on flawed studies, and public health authorities agree the benefits of the shots outweigh the risks.
Cardiologist Aseem Malhotra appeared September 27, 2022 in a press conference with the World Council for Health -- a group that has previously spread vaccine misinformation -- to call for the "immediate and complete suspension of Covid-19 vaccine."
Malhotra says he was one of the first to receive two doses of Pfizer's Covid-19 vaccine in January 2021. He appeared on "Good Morning Britain" in February 2021 to discuss how he convinced previously vaccine-hesitant film director Gurinder Chadha to receive the shot.
But he now says his research shows there is "a greater risk of serious adverse events from the vaccines than being hospitalized from Covid-19."
This screenshot taken October 10, 2022 shows a YouTube video from the World Council for Health
Following the press conference, Malhotra tweeted about his paper, titled: "Curing the pandemic of misinformation on Covid-19 mRNA vaccines through real evidence-based medicine." Published in Insulin Resistance -- an open-access journal where Malhotra serves on the editorial board -- the article received thousands of interactions on social media, according to CrowdTangle, a monitoring tool.
The findings were further amplified in articles and posts from organizations that AFP has previously found to spread vaccine misinformation, including Children's Health Defense, The Epoch Times and the Gateway Pundit. On October 3, 2022, Malhotra appeared on an online program hosted by Del Bigtree, CEO of the anti-vaccination Informed Consent Action Network.
But Malhotra's paper -- which medical experts have refuted -- is based on previously released data and studies, several of which have been called into question.
"Vaccines are the best way to protect people from Covid-19 and have already saved tens of thousands of lives," said Alison Cave, chief safety officer at the UK's Medicines and Healthcare products Regulatory Agency (MHRA), in a statement emailed to AFP on October 6.
AFP examined some of the misleading evidence offered in Malhotra's article.
P-hacking
Malhotra highlights the findings of a study titled "Serious adverse events of special interest following mRNA COVID-19 vaccination in randomized trials in adults." The paper, published September 22, 2022 in the journal Vaccines, reanalyzed data from phase three of Pfizer and Moderna's Covid-19 vaccine clinical trials.
Health Feedback reviewed the paper when it was released as a pre-print, prior to undergoing peer review. The fact-checking organization found several flaws with the research and concluded it did not amount to proof that Covid-19 vaccines are more likely to lead to hospitalization than keep patients out of the hospital.
Scientists also pointed to potential p-hacking, or misuse of data to make the evidence look statistically significant when it is not.
"(P-hacking) has been a widespread problem even under normal circumstances in the scientific literature," said David Gorski, a professor at the Wayne State University School of Medicine, on the website Science Based Medicine. "But a less known aspect of it is that it can be weaponized in the service of portraying vaccines, in this case the Pfizer and Moderna mRNA-based Covid-19 vaccines, as more dangerous than they are."
Data limitations
Malhotra also points to data from the US Vaccine Adverse Effect Reporting System (VAERS), saying "the level of reports -- including serious ones -- associated with Covid-19 vaccines is completely unprecedented."
Anyone, from doctors and nurses to patients and parents, can submit reports of adverse events following vaccination to VAERS. Health care providers are required to report serious events, including death -- even if a vaccine link is not suspected.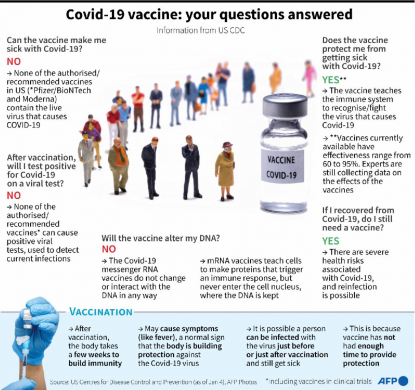 Things to know about the Covid-19 vaccines, according to US Centers for Disease Control and Prevention ( AFP / Gal ROMA, Sophie RAMIS)
While researchers use the database to detect potential safety signals with a vaccine, VAERS warns on its website that not all reports are verified.
"The number of reports alone cannot be interpreted as evidence of a causal association between a vaccine and an adverse event, or as evidence about the existence, severity, frequency, or rates of problems associated with vaccines," VAERS says. "Reports may include incomplete, inaccurate, coincidental and unverified information."
AFP has previously fact-checked numerous false and misleading vaccine claims that cite VAERS as evidence.
Risk reduction
In his paper, Malhotra takes aim at the ways Covid-19 vaccine effectiveness is measured.
"To know the true value of any treatment one needs to understand for that person, by how much is their individual risk reduced by the intervention -- that is, the absolute individual risk reduction," he claims.
He says the focus should not have been on the 95 percent relative risk reduction shown in Pfizer's clinical trials for the mRNA vaccines, but rather a different metric called absolute risk reduction -- which is far lower at 0.84 percent.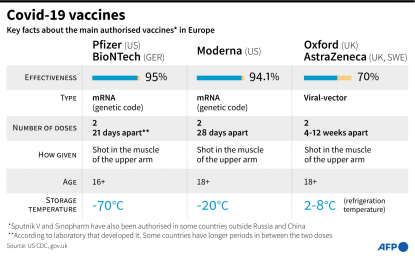 Key facts on main authorised Covid-19 vaccines in Europe ( AFP / Jonathan WALTER, Paz PIZARRO)
Comparing these numbers gives the impression that the vaccines are far less effective than they were shown to be in real-world settings, a notion that AFP has previously debunked. Contrary to Malhotra's assertion, the Covid-19 vaccines do reduce the risk of infection, though this varies by age and virus variant.
Problematic papers
Malhotra also references a peer-reviewed abstract published in the journal Circulation, which claimed to find an increased risk of cardiovascular problems among vaccinated individuals.
He said: "Even if partially correct, that would mean that there would be a large acceleration in progression of coronary artery disease, and more importantly heart attack risk, within months of taking the jab."
But the journal added an "expression of concern" which suggests flaws in the research.
"It was brought to the American Heart Association Committee on Scientific Sessions Program's attention that there are potential errors in the abstract," the note says.
Malhotra also points to a study from Israel that found increased cardiovascular events among vaccinated citizens under 40.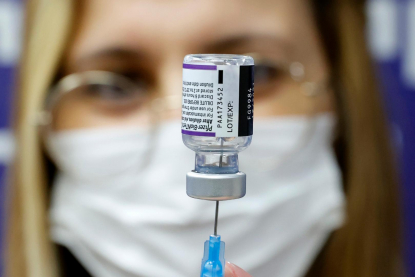 A medic prepares a dose of the Pfizer-BioNTech vaccine against the coronavirus at the outpatient clinics of the cardiovascular center at Sheba Medical Center in Ramat Gan, near the Israeli coastal city of Tel Aviv, on December 31, 2021 ( AFP / JACK GUEZ)
The study was published in Scientific Reports in April 2022, but its methodology was questioned. On May 5, 2022, the journal added a note saying the conclusions "are subject to criticisms that are being considered by the editors."
MHRA's Cave said: "Following a careful assessment of the available data, we concluded that the evidence does not support an association between the Covid-19 vaccines and an increased risk of cardiac-related death."
Myocarditis
In discussing the harms of the Covid-19 vaccine, Malhotra particularly focuses on myocarditis, or inflammation of the heart muscle.
Myocarditis and pericarditis -- irritation of the tissue surrounding the heart -- are being monitored as adverse events of special interest in Canada and other countries, particularly in male adolescents and male adults under age 30. Canada's most recent data show that after the administration of more than 89 million vaccine doses, 1,127 myocarditis/pericarditis cases have been recorded.
In the UK, the Yellow Card system monitors reported vaccine side effects. Based on the latest data, the MHRA said reports of myocarditis and pericarditis "are very rare, and the events reported are typically mild with individuals usually recovering within a short time with standard treatment and rest."
Peter Liu, chief scientific officer and vice president of research at the Ottawa Heart Institute, previously told AFP that it is important to consider the risk of myocarditis following a Covid-19 infection.
"If you compare to Covid-related cardiac complications, the vaccine-induced complications are way fewer," he said.
This was confirmed by an analysis of 43 million people over the age of 13 who were vaccinated in the UK.
"We found that across this large dataset, the entire Covid-19-vaccinated population of England during an important 12-month period of the pandemic when the Covid-19 vaccines first became available, the risk of myocarditis following Covid-19 vaccination was quite small compared to the risk of myocarditis after Covid-19 infection," the study's lead author, Martina Patone, told the American Heart Association.
Health Canada, the UK's National Health Service and the US Centers for Disease Control and Prevention recommend Covid-19 vaccination to protect against severe illness and hospitalization.
AFP has fact-checked other false and misleading claims about vaccines here.