Thai study misrepresented in posts opposing Covid-19 vaccination
Research from Thailand was shared by social media users who claimed it showed a higher rate of myocarditis, or inflammation of the heart muscle, in young people following vaccination against Covid-19 than in previous studies. But medical experts said the posts misrepresented the findings, that the sample size was too small to show significant differences, and that the risk of cardiac complications after a Covid-19 infection is far greater than those associated with mRNA shots.
Tweets, YouTube videos, online articles and Substack posts in August 2022 highlighted a Thai study to argue adolescents should not receive the Covid-19 shot because of the risk of myocarditis following vaccination.
Del Bigtree, CEO of one of the best-funded anti-vaccine organizations in the United States, hosted a segment of his online program where the study was referred to as a "bombshell." AFP has debunked claims made on his show before.
Similarly, Peter McCullough, a cardiologist from the US state of Texas who has made other misleading claims about Covid-19, appeared in an August 12, 2022 YouTube interview with Kim Iversen titled "ALARMINGLY HIGH Rates Of Teen Myocarditis Found In Thailand Preprint."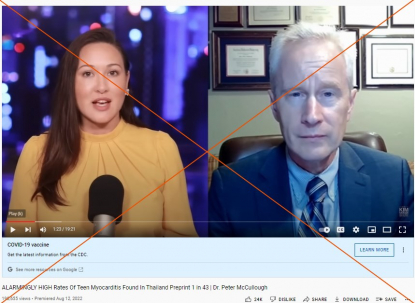 Screenshot taken on September 2, 2022 of a YouTube video
Health Canada and the US Centers for Disease Control and Prevention (CDC) continue to recommend Covid-19 vaccinations to protect against severe illness and hospitalization and experts told AFP the findings of the Thai study are not cause to stop recommending the jab.
What did the Thai study find?
The study -- titled "Cardiovascular Effects of the BNT162b2 mRNA COVID-19 Vaccine in Adolescents" -- first made waves on social media after it was released as a pre-print on August 8, 2022. It has since been peer-reviewed and was published on August 19, 2022 in the journal Tropical Medicine and Infectious Disease.
In it, researchers looked at Thai adolescents aged 13-18 who received a second dose of Pfizer's mRNA vaccine against Covid-19. After analyzing 301 participants, the researchers confirmed one case of myopericarditis -- a complication of acute pericarditis -- two patients with suspected pericarditis and four patients with suspected subclinical myocarditis.
The study protocol differed from previous research, but like other studies it said: "Clinically suspected myocarditis is temporarily associated with the BNT162b2 mRNA Covid-19 vaccine in a small proportion of adolescent patients."
The authors recommended monitoring adolescents receiving the shot for cardiovascular side effects.
AFP reached out to the authors for further comment.
Peter Liu, chief scientific officer and vice president of research at the Ottawa Heart Institute, told AFP on August 24 that the study was too small to raise new alarms about cardiac risk.
"The other studies have like hundreds of thousands of people vaccinated," Liu said.
With just over 300 participants, Liu said the Thai study found only one confirmed case and six suspected cases. "People use these opportunities to confirm their biases," he said.
What is known about myocarditis following Covid-19 vaccination?
Myocarditis and pericarditis, or irritation of the tissue surrounding the heart, are being monitored as adverse events of special interest in Canada. The most recent data shows that after the administration of more than 88 million doses, 1,114 myocarditis/pericarditis cases have been recorded.
In a 2021 statement, the Council of Chief Medical Officers of Health in Canada said the risk of myocarditis and pericarditis following vaccination against Covid-19 is higher in male adolescents and male adults under age 30. The CDC also found more cases reported in adolescents and young adult males.
The rare complication has most often been observed following the second dose of the mRNA vaccines and is seen within seven days of vaccination. The risk was also higher for patients who received the Moderna vaccine over the Pfizer-BioNTech shot.
A June 2022 study from Ontario, Canada recommended age-based product considerations for patients and said that waiting longer intervals between shots may also mitigate some of the risk without compromising vaccine efficacy.
While health officials agree that the adverse event is important to continue monitoring, studies repeatedly find far more heart complications following a Covid-19 infection than vaccination.
Martina Patone, a statistician at the University of Oxford Nuffield Department of Primary Health Care Sciences, and lead author of an analysis of 43 million people over the age of 13 who were vaccinated in the UK told the American Heart Association in August 2022: "The risk of myocarditis following Covid-19 vaccination was quite small compared to the risk of myocarditis after Covid-19 infection."
Ottawa's Liu also noted: "If you compare to Covid-related cardiac complications, the vaccine-induced complications are way fewer."
The Heart Institute has been referred patients from across Canada, and Liu said he has been reassured by their rapid recoveries. "More than 90 percent of the patients have completely recovered. There's absolutely no residual issues at all." A study will continue to follow these patients for a minimum of three years, but he said: "I'm not worried for them."
This is consistent with what Jack Price, a pediatric cardiologist at Texas Children's Hospital, said has been observed. Patients report "mild and transient" symptoms and "recover quickly."
He said that the Thai research did not add any concerns about recovery. It found: "In all cases, symptoms were mild with full recovery within 14 days."
Price, who also serves as the Director of Pediatrics for the Myocarditis Foundation, contrasted that with more serious and lasting cases of myocarditis that follow a viral infection. Viral myocarditis is much more likely to make you ill or to leave a patient with "true injury or abnormal heart function," he said on August 31.
Price said he continues to advise all patients eligible for a Covid-19 vaccine to take the shot because it is impossible to know if a child will be among those to suffer serious illness from a SARS-CoV-2 infection. "Those situations are also rare, but they happen and they are life changing. If we can avoid it with a simple vaccine, then we should."
More of AFP's reporting on inaccurate claims about the vaccines can be found here.