US cardiologist falsely promotes Covid-19 vaccine recall
Covid-19 vaccines are safe and effective at preventing serious illness, hospitalization and death. But a widely circulated video on social media claims the shots have been recalled due to more than 40,000 deaths worldwide. This is false; neither public health agencies nor manufacturers have recalled Covid-19 vaccines authorized in the US, and verified deaths resulting from the shots are exceptionally rare.
"Global Recall on all C-19 Vaxx," says text over a video published July 16, 2022 on Instagram. "Why isn't this on MSM? It was reported June 11 2022! Why are they still giving it to people?!?"
The clip, which accumulated more than 3,000 likes and has also spread on Twitter, stems from a post on TikTok. The video features testimony from Peter McCullough, an anti-vaccine advocate who has previously promoted misinformation about Covid-19 shots.
"This month, the World Council for Health -- which represents 70 bodies worldwide -- has called for a global recall of all vaccines," McCullough says in the clip, citing 40,000 purported reports of Covid-19 vaccine-related deaths globally.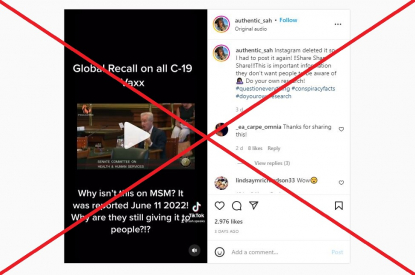 Screenshot of an Instagram post taken July 20, 2022
The footage shows McCullough testifying before the Texas Senate Committee on Health and Human Services during a June 27, 2022 meeting about the state's pandemic response. The cardiologist and other anti-vaccine advocates have addressed similar US bodies in the past, part of a worldwide pattern in which footage from official proceedings is used in a seemingly plausible way to present what is, in fact, Covid-19 misinformation.
However, McCullough's claims -- as well as the social media posts that promote them -- are inaccurate.
No Covid-19 vaccine recall
As of July 26, 2022, the Food and Drug Administration had not listed any recalls for the four Covid-19 vaccines authorized in the US. Abby Capobianco, an agency spokesperson, confirmed that in an email to AFP.
"There have not been any recalls of Covid-19 vaccines due to reports of death following vaccination," she said. "Reports of death after Covid-19 vaccination are rare."
The US Centers for Disease Control and Prevention (CDC), the European Medicines Agency (EMA) and the World Health Organization (WHO) also told AFP they were not aware of any Covid-19 vaccine recalls.
"CDC does not have any evidence that would support a 'recall' of Covid-19 vaccines (i.e., withdrawal of Covid-19 vaccines from use)," said Martha Sharan, an agency spokesperson.
The CDC says on its website that there have been "only a few vaccine recalls or withdrawals due to concerns about either how well the vaccine was working or about its safety."
A woman receives her Covid-19 vaccine at Union Station in Los Angeles, California, on January 7, 2022 ( AFP / Frederic J. BROWN)
"Several vaccine lots have been recalled in recent years because of a possible safety concern before anyone reported any injury. Rather, the manufacturer's quality testing noticed some irregularity in some vaccine vials," the agency says. "In these cases, the safety of these vaccines was monitored continuously before and after they were in use."
In April 2022, Moderna recalled a batch of Covid-19 vaccine doses in Europe. The pharmaceutical company issued a similar recall in Japan in September 2021. And in the US, the FDA has limited the authorized use of Janssen's vaccine due to the risk of a blood clotting condition.
But Janssen, Novavax and Pfizer told AFP their vaccines had not been recalled altogether. Moderna did not immediately return a request for comment.
Claim distorts adverse event reports
The press release cited by McCullough and the social media posts comes from the World Council for Health (WCH), a group that questions the safety of vaccines and falsely promotes ivermectin as a Covid-19 treatment.
The release, published June 11, 2022, claims "data on adverse drug reactions" from the Covid-19 vaccines "exist in an amount sufficient for the recall of similar products in the past."
"In total, more than 40,000 deaths are linked to the novel Covid-19 vaccines in the official databases analyzed," it says.
The WCH cited as evidence four global databases: the WHO's VigiAccess, the US Vaccine Adverse Event Reporting System (VAERS), the EMA's EudraVigilance, and the United Kingdom's Yellow Card.
Each of those systems tracks reports of adverse events following Covid-19 vaccination. An AFP analysis confirmed all four have thousands of cumulative death reports.
But as AFP has previously reported, that does not mean the Covid-19 vaccines were responsible for those deaths.
"Reports to these passive systems can be made by anyone for anything," said Daniel Salmon, director of the Institute for Vaccine Safety at the Johns Hopkins Bloomberg School of Public Health. "It does not mean that the health events (deaths) reported are caused by vaccines."
Take for example VAERS, which the FDA and CDC use to unearth potential safety issues with authorized vaccines.
Anyone, from doctors and nurses to patients and parents, can submit reports of adverse events following vaccination to VAERS. Health care providers are required to report serious events, including death -- even if a vaccine link is not suspected.
While researchers use the database to detect potential reporting patterns, VAERS warns on its website that not all reports are verified.
"It is generally not possible to find out from VAERS data if a vaccine caused the adverse event," the system says, adding that "serious adverse events are more likely to be reported than non-serious events."
The UK's Medicines and Healthcare products Regulatory Agency (MHRA), as well as the WHO and EMA, told AFP their systems function similarly.
"Spontaneous case reports of suspected adverse reactions alone are rarely sufficient to prove that a certain suspected reaction has indeed been caused by a specific medicine," Zala Grudnik, an EMA spokesperson, told AFP in an email. "This could be a symptom of another illness, or it could be associated with another medicinal product taken by the patient at the same time. Hence, a case report should be seen as a piece of a jigsaw puzzle."
In the US, Capobianco said reviews by the FDA and CDC "have determined that the vast majority of the deaths reported" to VAERS "are not directly attributable to the vaccines."
In one egregious case, a report submitted to VAERS in March 2021 said a two-year-old girl in Virginia died less than a week after receiving the Pfizer vaccine. But the CDC previously told AFP the report was "completely made up," with a professional athlete listed as the patient and a world leader's name used for the person who reported the incident.
There are some rare exceptions -- including "nine confirmed deaths following the Janssen vaccine," according to the CDC's Sharan.
"These nine deaths were the result of complications of thrombosis with thrombocytopenia syndrome (TTS), which is a rare and serious adverse reaction following the (Johnson & Johnson) Janssen Covid-19 vaccine," she said.
However, a WHO spokesperson said in an emailed statement that the "consistent observation so far, across all countries, has been that the benefits of the vaccines far outweigh any risks."
AFP has fact-checked other claims about vaccines here.