Posts falsely attribute Tim Hortons story to Canadian news brands
An image circulating on social media is said to show a Canadian news agency's article about the vaccination policy of summer camps sponsored by the Tim Hortons Foundation. But the article is not authentic; The Canadian Press told AFP it did not write the story, and Global News did not publish it.
"It's coming to this now," says a July 18, 2022 Facebook post, which includes an image of what looks like a Global News article.
The purported headline says: "After public outrage, Tim Hortons will allow unvaccinated children to attend summer camps, segregated from other campers."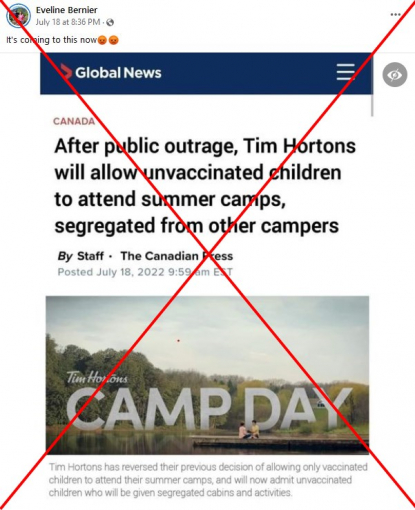 Screenshot of a Facebook post taken July 26, 2022
The image, which also circulated on Twitter, spread following controversy over the Covid-19 vaccination policy of the Tim Hortons Foundation's summer camps for underserved youth.
But the photo does not show an authentic report.
The purported article is attributed to The Canadian Press, a national news agency that provides content to outlets across the country. But managing editor Sunny Freeman told AFP by email: "It was absolutely not us."
The social media posts also make it appear that the article was published by Global News. However, a search for the headline on the broadcaster's website did not produce any results. The article is also absent from a version of Global News' homepage archived shortly after the story was supposedly published on July 18, 2022.
The news outlet confirmed to AFP that it did not publish such an article.
"This was not published on our site and is falsely associated with the Global News brand," said Michelle Brykman, a spokeswoman for Global News, in an email.
The Tim Hortons Foundation Camps did not immediately reply to AFP's request for comment.
AFP has previously fact-checked other imposter content, or images altered to look like genuine stories, from Canadian media outlets.