Image does not show authentic article from Canada's CTV
Social media posts claim Canadian broadcaster CTV reported that conspiracy theorists have been increasingly proven correct, and include an image of the purported article as proof. But a spokesman says the company did not publish such an article, and online searches confirm that it does not appear on the news organization's website.
"So maybe when people are right about things, they cease being conspiracy theorists?" says an April 22, 2022 tweet that features the image.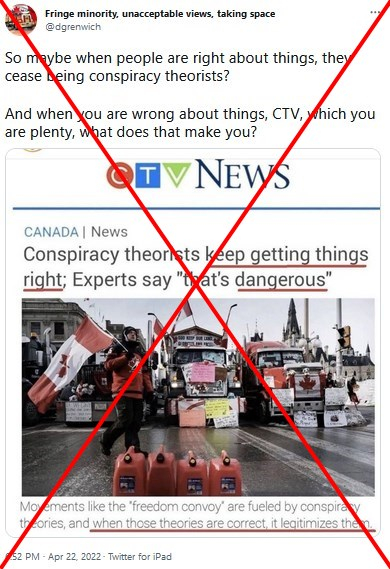 Screenshot taken on April 29, 2022 of a tweet
The claim also appeared elsewhere on Twitter and on Facebook.
It includes the CTV News logo and looks like an authentic article from the broadcaster. But a search for the headline on the organization's website found no such story.
Rob Duffy, CTV News manager of communications at its parent company Bell Media, told AFP: "I can confirm the post in question is not authentic to CTV News."
A Google search also did not find the article.
The image includes a photo with a caption partly underlined in red that says: "Movements like the 'freedom convoy' are fueled by conspiracy theories and when those theories are correct, it legitimizes them."
A reverse image search for the photo reveals that it comes from Getty Images and is available on its website with a caption about the convoy.
In early 2022, hundreds of truckers and thousands of protesters blocked Canada's capital for three weeks to protest vaccine mandates, leading to a flood of inaccurate claims.
Many provincial Covid-19 measures have since been lifted, but some federal regulations, including a vaccine mandate for air and train travelers, remain in place.
More of AFP Fact Check's reporting on Canada is available here.