Ex-hockey star Gino Odjick died due to terminal disease
Twitter posts claim former National Hockey League (NHL) player Gino Odjick "died suddenly" at 52, using a phrase adopted by Covid-19 vaccine critics. This is misleading; the Canadian had for years been battling a rare, often fatal disease that affects the heart and other organs.
"BREAKING — Former NHL Player Gino Odjick, Died Suddenly From Heart Attack At Age 52," says a January 16, 2023 tweet from James Cintolo, a Boston-based nurse who writes about supposed adverse events following Covid-19 vaccination.
The post accumulated more than 250,000 views, and similar messages circulated elsewhere on Twitter. One tweet mistakenly called Odjick a former NFL player.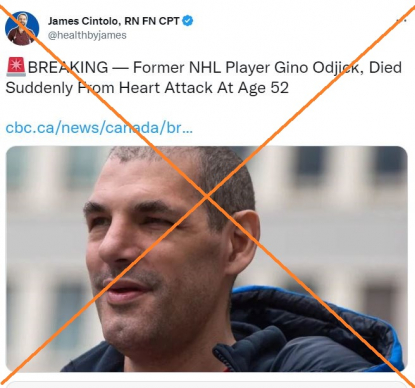 Screenshot of a tweet taken January 18, 2023
Anti-vaccine advocates adopted the phrase "died suddenly" in the wake of a 2022 film of that name that included numerous falsehoods about Covid-19 shots. Social media users have claimed without evidence that vaccination played a role in the deaths of Canadian doctors, athletes, pilots, a sports journalist and a South Korean influencer.
Odjick's sister announced his death from a heart attack on January 15 -- but his illness was diagnosed years before the Covid-19 pandemic.
The former enforcer for the Vancouver Canucks and other NHL teams said in a 2014 letter that he had "a rare terminal disease" known as AL amyloidosis, which attacks the heart and other organs. In another letter published in October 2020, before Covid-19 vaccines were available, Odjick said he had suffered a relapse after several years of remission.
There is no known cure for AL amyloidosis, although some treatments can assuage symptoms. The average life expectancy after diagnosis is around 11 years, according to a 2007 study published in the peer-reviewed New England Journal of Medicine.
Medical authorities say treatments can slow or stop the bone marrow disease from getting worse. But they do not remove the fibrils, or clumps of protein, that can cause life-threatening damage to organs.
Health Canada is monitoring adverse events of special interest (AESI) related to the Covid-19 vaccines. The most commonly reported AESI are myocarditis, inflammation of the heart muscle, and pericarditis, irritation of the tissue surrounding the heart.
However, studies have repeatedly found more heart complications following Covid-19 infection than vaccination. And the US Centers for Disease Control and Prevention told AFP on January 4 that it had "not detected any unusual or unexpected patterns for deaths following immunization that would indicate that Covid vaccines are causing or contributing to deaths."
AFP has reported on other vaccine misinformation here.