Kari Lake falsely claims she won Arizona governor's race
The US state of Arizona has certified Democrat Katie Hobbs's victory in the 2022 governor's election, but Republican Kari Lake still claims she won. This is false; official results showed Hobbs received more votes, and there is no evidence widespread fraud affected that outcome.
"We started and created an amazing movement of people. And we won this election, but this election was rigged," Lake said in a December 13, 2022 episode of "War Room," a web show hosted by Steve Bannon.
Bannon, who served as chief strategist in former US president Donald Trump's White House, pressed Lake on that claim.
"Is there any doubt in your mind, any doubt in your soul when you do this -- is there any doubt that you won this election?" he asked.
Lake responded: "Not one inkling of doubt. Not one inkling."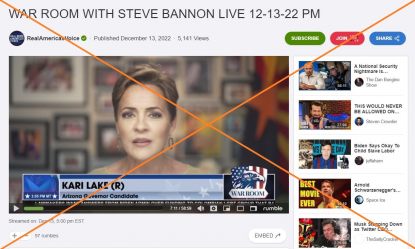 Screenshot taken from Rumble on December 19, 2022
The video has been widely shared on Facebook and Instagram. Other posts, as well as articles from websites such as the Gateway Pundit, which has been the subject of numerous fact checks, also allege fraud in the Arizona governor's contest.
Lake repeated the claim December 18 during a conference hosted by Turning Point USA, a conservative organization that has previously spread election misinformation.
"My pronouns are I/won," she said, after calling for Maricopa County election officials to be "locked up."
The claims come after Lake, a Trump-backed candidate who previously promoted unfounded allegations of election rigging, filed a lawsuit December 9 to overturn results in Maricopa County, which includes Phoenix.
The state's most populous county, key to Hobbs's victory, was the subject of numerous false claims and conspiracy theories following the 2022 US midterm elections.
There were voting machine malfunctions in Maricopa County on November 8, as Lake mentioned in her interview with Bannon. But they did not amount to wrongdoing, as AFP has previously reported -- and there is no evidence of widespread fraud affecting the election outcome.
"These claims are false and there is no evidence to support them," said C. Murphy Hebert, a spokesperson for the Arizona secretary of state's office, in a statement emailed to AFP.
Hobbs received more votes
Arizona certified its 2022 election results on December 5, making Hobbs -- Arizona's secretary of state -- the official winner of the governor's race. She received about 17,000 more votes than Lake, according to the statewide canvass.
Still, Lake alleges in her 70-page lawsuit against Hobbs and other election officials that "hundreds of thousands of illegal ballots infected the election in Maricopa County," citing unnamed witnesses at polling locations. The former television news anchor also points to voting machine issues on Election Day as evidence that "thousands of Republican voters were disenfranchised."
"These facts preclude Arizona's vote totals canvassed on December 5, 2022, from being used to determine the next governor of Arizona," Lake's lawyers said in the complaint.
Attorneys for Hobbs have asked the Maricopa County Superior Court to dismiss Lake's lawsuit, saying in a motion filed December 16 that the complaint "rests on rank speculation and a cynical mistrust of Arizona's election officials" and that "none of Lake's allegations are sufficiently well-pled to establish a valid election contest."
A judge granted Lake's request to inspect randomly selected ballots, and on December 19 the court agreed to hear oral arguments on Hobbs's motion. Similar election challenges from other former Republican candidates in the state have been dismissed.
Maricopa County said 20 percent of tabulators at its 223 polling stations experienced difficulties on Election Day. The technical problems, attributed to printer issues, were later resolved -- and officials said all affected ballots were counted.
Hebert, from the secretary of state's office, said Arizona has "already completed the statutorily required audits," including in Maricopa County. None of those reviews found discrepancies affecting the election outcome.
The federal Cybersecurity and Infrastructure Security Agency said in a November 9 statement: "We have seen no evidence that any voting system deleted or lost votes, changed votes, or was any way compromised in any race in the country."
AFP reached out to Maricopa County for additional comment, but a response was not forthcoming.
AFP has fact-checked other false and misleading claims about the 2022 US midterm election results here.