Image of Global News article is manipulated
Two images that appear to show Global News articles about a rise in fascist graffiti in Canada are spreading across social media. But the purported screenshots are digitally altered; the news organization confirmed it did not publish any such story, which does not appear online.
"Since when is freedom fascist?" says a December 5, 2022 tweet with a photo of what appears to be an article published one day prior by one of Canada's largest news organizations.
The supposed headline says: "Rise in fascist graffiti has experts concerned about the steel resolve of the far-right."
Posts with the headline and a picture of a wall spray-painted with the word "freedom" were also shared on Facebook. The same headline appears over another image of a beaver wearing a red baseball cap in Instagram and Facebook posts with thousands of interactions.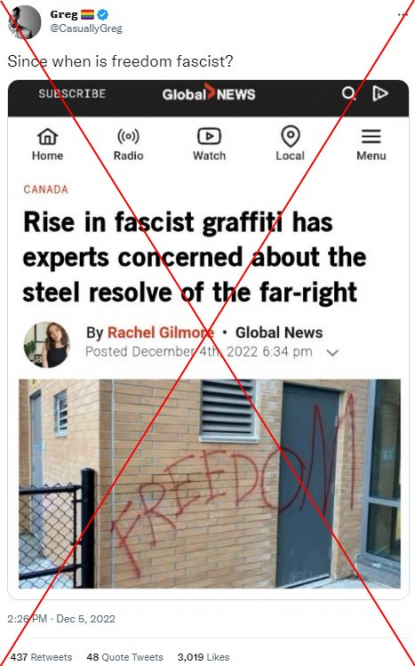 Screenshot of a tweet taken December 19, 2022
Screenshot of an Instagram post taken December 19, 2022
But the headline does not appear on live or archived versions of the Global News website.
"I can confirm Global News didn't publish this article," said Rishma Govani, a spokesperson for the news organization.
Rachel Gilmore, the political reporter said to have written the article, has previously been targeted by manipulated images as part of a harassment campaign she and other Canadian journalists have raised with law enforcement.
Her author page shows two unrelated stories published December 4: one about Ukraine's former president and another on an Alberta sovereignty bill.
A reverse image search shows the "freedom" graffiti photo appeared in a February 2022 article by blogTO.
The local news site in Toronto reported the graffiti was painted on the side of the Davisville Junior Public School and Spectrum Alternative School to protest Covid-19 vaccine mandates. A local politician condemned the vandalism in a February 2 tweet.
Meanwhile, the beaver shown in the second image shared online is the logo of Buc-ees, a chain of gas stations and convenience stores in the southern United States.
AFP has fact-checked other manipulated images with fabricated headlines from Global News, the Canadian Broadcasting Corporation and CTV.