False marriage annulment claims go viral in Catholic-majority Philippines
Philippine courts cannot annul a marriage on the basis of five years of separation, multiple lawyers said, contrary to false posts shared thousands of times on Facebook. These posts also misleadingly claim spouses who have separated for five years can have their marriage annulled "without a court hearing". In the mainly Catholic country that is the world's last remaining holdout on divorce, a court trial is required for estranged couples wanting a genuine way out, lawyers told AFP.
The false claim was shared more than 3,000 times after it was posted online on July 12, 2022 by a Facebook page called "Annulment Processing Services".
The post's caption claims in part: "It's finally possible -- 5 years of separation can be a ground for annulment."
It goes on to state: "Question: What if I live far away or outside the Philippines, can I still file [for annulment]? Answer: Yes, because there will be no appearance and no hearings and the lawyer will take care of everything.
"Annulment is filed wether (sic) or not your estranged spouse knew so. If your estranged spouse doesn't care at all, the annulment is more favorable to be granted."
The post features an image of a purported "Certificate of No Marriage Record" from the Philippine Statistics Authority for a couple whose marriage has supposedly been nullified.
In a reply to an enquiry sent to the WhatsApp number provided on the page, an administrator told AFP that the "annulment process" would require an acceptance fee of 150,000 pesos ($2,700) on top of legal fees of around 5,000 pesos ($88) per court appearance.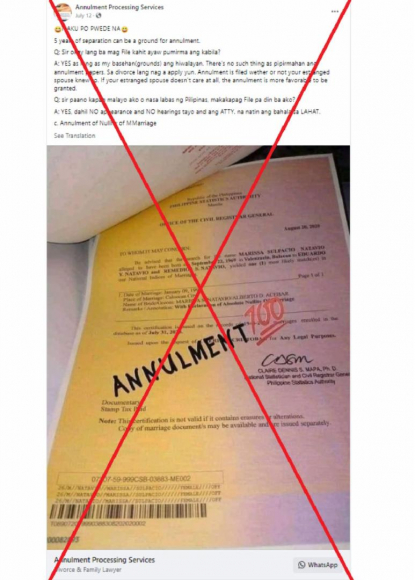 The Philippines is the only state other than the Vatican that bans divorce for the majority of its population.
Marital relations of Muslim Filipinos -- estimated to be around ten percent of the population -- are separately governed by the Muslim Code which allows divorce.
One option for most couples to part is through legal separation -- which does not allow them to remarry as their marriage is still considered valid.
Another is through annulment.
Similar posts shared on Facebook here and here fuelled a swirl of comments from social media users who appeared to believe the claim.
"Finally. We've waited too long for this," one user said.
"How will the process go? It's been ten years since we separated," another user inquired.
The posts are false, multiple lawyers told AFP.
Grounds for annulment
"There is no magic number of years of separation that allows a couple to get an 'annulment'," Katrina Legarda, a prominent Filipino lawyer who specialises in family law, told AFP.
The grounds for annulment are outlined in Article 45 of the Family Code of the Philippines -- the law that governs family relations in the country.
According to the law, an annulment may be granted if either spouse was married between 18 to 21 years old but without parental consent; of "unsound mind"; forced to marry through fraud or intimidation; physically incapable of consummating the marriage; or is afflicted with a serious sexually-transmissible disease that appears to be incurable.
Five years of separation is not included in this list.
Philippine lawmakers have yet to pass a proposal to include "at least five years" of separation in the grounds for getting a marriage annulled.
Bills pushing for this amendment have been regularly filed in Congress since 2014 but have typically languished at the lowest committee level.
Court trial
"A case for annulment must always go to trial," said lawyer Aldan Avila who works at the Philippine Office of the Solicitor General (OSG).
"A decision rendered without any trial is a void one," he said.
Claims that annulment proceedings can move forward without the knowledge of the other spouse are also false, lawyer Lorna Kapunan told AFP.
"A respondent must be duly served, even if they choose to not file an answer," Kapunan said.
"If the respondent spouse does not care at all, the marriage will be represented by the OSG," she added.
The Family Code requires that courts hearing all annulment cases "take steps to prevent collusion" between the spouses.
"A judge who circumvents the trial proper under the rule will certainly be held administratively liable," Avila said.
December 19, 2022 Updated paragraph 19 to say "not included in this list".