Posts mislead on Arizona ballot counting in Maricopa County
Social media posts misleadingly claim that the ballot counting process in Arizona's Maricopa County was conducted in a fraudulent manner, adversely affecting Republican voters. But officials and independent experts say multiple systems were used to ensure all votes were counted correctly.
"Wow! In Arizona they discovered that some Republican ballots that were supposed to be counted after the tabulators failed ended up mixed in with ballots that were already counted instead!" claims a November 12, 2022 Instagram post from Robby Starbuck, an unsuccessful Republican candidate for Congress in Tennessee.
Other iterations of the post, which include a video clip of Arizona's Republican gubernatorial candidate Kari Lake telling One America News (OAN) that ballots from at least two locations "never got counted," have been shared on Facebook and Twitter.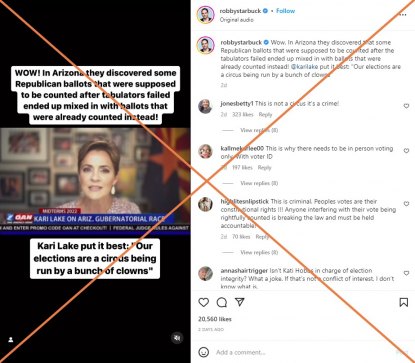 Screenshot of an Instagram post taken November 14, 2022
Since 2020, Arizona has been a hotspot for so-called election deniers, with armed activists recently monitoring ballot voter drop boxes, after claiming that Joe Biden's victory over Donald Trump was illegitimate. Lake, a Trump acolyte who echoed the former president's baseless vote-rigging claims, eventually lost her race to become governor, further feeding into election fraud conspiracy theories.
Ballots counted once
On Election Day, officials in Maricopa County, which includes Phoenix, said about 20 percent of 223 polling stations there were experiencing difficulties with tabulators. Officials stressed that there was no criminality involved in the technical issues and said it did not cause any ballots to be read incorrectly or prevent anyone from voting.
If the tabulator did not work, the voter could place his or her ballot in "box 3" to be counted later. Officials said the co-mingling of those ballots with some that had already been tabulated should not raise concern.
"In every election, it is not uncommon for poll workers to combine the ballots which ran through the tabulator with ballots deposited in secure (box) number 3," Megan Gilbertson, a Maricopa County Elections Department spokeswoman told AFP.
"This has happened in the past, and we have redundancies in place that help us ensure each legal ballot is only counted once. Because ballots are tabulated by batch, we are able to isolate the results from those specific locations and reconcile the total ballots against check-ins to ensure it matches," she said.
"This is done with political party observers present and is a practice that has been in place for decades," Gilbertson added.
The mixing of ballots was also raised on November 11 by Republican Senate candidate Blake Masters -- who also lost to a Democrat -- in an appearance on the Fox News program Tucker Carlson Tonight. "It's a giant disaster, it's a giant mess to try to unmix these ballots," he said, before calling for a fresh count.
Screenshot of Blake Masters speaking to Fox News host Tucker Carlson
On November 12, Bill Gates, chairman of the Maricopa County Board of Supervisors, addressed Masters' comments.
Speaking to CNN, he said: "There were two vote centers where the ballots that went into that box 3 were actually co-mingled with the ballots that went through the tabulator."
But he said this would be addressed by comparing the number of people who checked in at the vote center against the total number of ballots.
"Every one of those votes is going to be counted -- that people cast at the vote center -- the only issue is where the vote will be tabulated, there at the vote center or here at Central County," said Gates, emphasizing that this will be done in the presence of both Republican and Democrat observers.
He said it was "absolutely false" to suggest that something "untoward" was happening.
Pam Smith, president of Verified Voting, a non-partisan group that promotes the responsible use of technology in elections, agreed that the procedures in place in Maricopa County should catch discrepancies if voted ballots were put in with uncounted ballots.
"The results reports would show how many ballots went through the scanner (and were included in the total), and ballot accounting and reconciliation procedures would show the discrepancy," she said.
Expressing confidence in the "election security and chain of custody," Sarah Brannon, managing attorney with the Voting Rights Project, also said it is possible to identify which votes "are in the batch of counted ballots and which ones are not in the batch of count ballots. And they do a double check based on vote totals."
Additionally, there is no proof that Republican voters were more likely to be impacted by the malfunctioning machines, an assertion made by Lake in the November 11 interview included in the social media posts.
An analysis by the Washington Post found the proportion of Republican voters in precincts with problems "was virtually the same as the share in precincts countywide."
On November 14, Democrat Katie Hobbs was narrowly declared the victor in the governor's race, with less than one percentage point separating her from Republican rival Lake.
More of AFP Fact Check's reporting on inaccurate election claims can be found here.