Unfounded claims of widespread Arizona election irregularities spread online
Online articles and social media posts claim a localized canvassing effort uncovered widespread 2020 election irregularities in Arizona's most populous county. But Arizona's secretary of state described the allegations as baseless, and Maricopa County officials say the woman behind the unofficial report on the vote has declined to provide evidence to support her claims.
"BREAKING -- HUGE: Results of Canvassing in Arizona Released -- ELECTION STEAL IS NOW CONFIRMED," says the headline of a September 8, 2021 article by The Gateway Pundit, an online outlet that has repeatedly made inaccurate claims in its articles.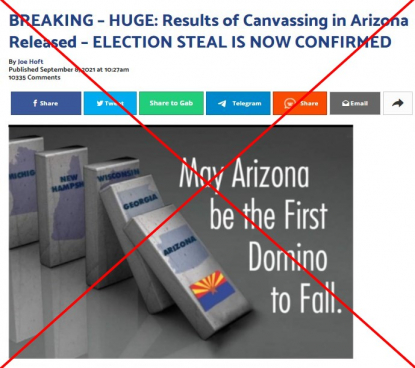 A screenshot of an article taken on September 9, 2021
The article links to the full 11-page report on the canvassing led by Liz Harris in Maricopa County. Harris -- who unsuccessfully ran for the state legislature in 2020 -- claims to have uncovered 173,104 "lost votes" and 96,389 "ghost votes" via her door-to-door verification efforts.
The claim -- just one in a long series of baseless assertions that the 2020 election, which Donald Trump lost to Joe Biden, was plagued by widespread fraud or other irregularities -- also appeared in an article here, as well as in posts on Facebook and Instagram.
Arizona Secretary of State Katie Hobbs said in a statement that "the allegations presented in this so-called report are baseless and were quickly disproven by local media. It's yet another attempt to undermine the integrity of our elections."
The Maricopa County Recorder's Office and the Maricopa County Assessor's Office also took aim at the report.
The offices "have repeatedly asked Ms Harris to provide details that support the findings of her report. While we investigate any and all allegations of wrongdoing made, we cannot do so without credible evidence being provided," they said in a joint statement.
"To date, Ms Harris has refused to provide the Recorder's Office or the Assessor's Office with the kind of information we can use to conduct a full and thorough investigation into the claims made in her report," the statement said.
Paul Bentz, an Arizona-based polling expert, questioned both Harris' methodology and the conclusions in the report, which he described as "not credible."
"You cannot extrapolate information based on a handful of precincts because Maricopa County is not homogenous," he said, adding that methods Harris employed can lead to voter intimidation and "false positives."