Arizona voting machine breakdown sparks baseless fraud claims
In Maricopa County, Arizona, technical problems with voting machines are fueling claims of cheating or manipulation in the hotly contested US state's midterm elections. But there is no evidence of widespread fraud, and local officials say uncounted ballots were secured and would be sent to a central tabulator -- a practice followed by other Arizona counties.
"Real time steal. Voting machines in Maricopa County, Arizona are 'misreading' ballots. The Dems just won't quit," tweeted Jim Rickards, an author and conservative commentator, as Americans went to the polls on November 8, 2022. "Voter fraud is all they have."
Actor and comedian Terrence Williams also tweeted about the snafu, sharing a video of a poll worker in Maricopa County supposedly telling voters that two ballot tabulators were malfunctioning.
"CHEATERS," Williams said in the post's caption.
Former president Donald Trump also voiced complaints on Truth Social, saying: "Same thing is happening with voter fraud as happened in 2020???"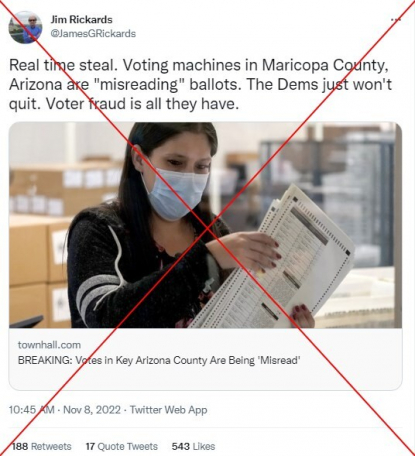 Screenshot of a tweet taken November 8, 2022
Screenshot of a Truth Social post taken November 8, 2022
The Election Integrity Partnership, a coalition of researchers analyzing online misinformation, said the claims spread quickly on Twitter and other platforms after being amplified by social media influencers such as Turning Point USA's Charlie Kirk. Similar posts have also circulated in Spanish.
Officials in Maricopa County, which includes the city of Phoenix, said 20 percent of tabulators at its 223 polling stations experienced difficulties on Election Day. The technical problems -- which technicians later resolved -- hit a hotly contested part a state that helped deliver the presidency to Joe Biden, and where Trump and his allies made persistent, unfounded allegations of irregularities after the 2020 election.
But the malfunctions are not evidence of wrongdoing -- and officials say all affected ballots will be counted.
Bill Gates, chairman of the Maricopa County Board of Supervisors, and Recorder Stephen Richer said in a video posted on Twitter that in cases where tabulators are not working properly, voters can deposit their ballots in a secure box attached to the machine. Richer said the ballots in the boxes would be verified and sent from polling stations to a central tabulator.
"This is actually what the majority of Arizona counties do," Richer said.
The Maricopa County Elections Department also said on Twitter that tabulator issues would not prevent anyone from voting, explaining how to cast a ballot at a different location.
Andrea Hailey, chief executive of the nonpartisan Vote.org, said such technical problems are common and do not indicate fraud.
"There are reports in several states that some voting machines are having technical problems," Hailey said in a statement. "This can happen, and election workers and state officials are working hard to resolve those issues and ensure voters have other options to cast their ballots today.
"This type of transparency from election officials shows the strength and resiliency of our democracy and the people and systems that uphold it."
The federal Cybersecurity and Infrastructure Agency (CISA) told reporters during a press briefing that sporadic issues with voting technology were not out of the ordinary, and that the agency was not aware of any credible threats to election infrastructure.
After the 2020 presidential election, Trump and other conservative figures misconstrued errors as evidence of widespread fraud affecting the results. But the election was the most secure in American history, according to CISA -- and litigation, audits and recounts have since backed that up.
More of AFP Fact Check's reporting on inaccurate election claims can be found here.