Article reporting Pfizer VP's arrest is satire
Social media posts say that Pfizer's Executive Vice President Rady Johnson has been arrested and charged with fraud. This is false; the article that originated the claim says that it is satire, and a Pfizer representative said the allegation was untrue, branding it "ridiculous."
"VP of Pfizer arrested after #pfizerdocuments get released," is the headline of a Vancouver Times article shared almost 20,000 times on Facebook, according to the social media monitoring tool CrowdTangle. It was also shared on Twitter.
Screenshot of a Vancouver Times article taken on May 11, 2022
The article spread amid a series of misleading claims about the safety and efficacy of the Pfizer-BioNTech Covid-19 vaccine after documents were released by the US Food and Drug Administration in compliance with a Freedom of Information Act request.
According to the Vancouver Times article, Johnson, Pfizer's chief compliance, quality and risk officer as well as executive vice president, was arrested by federal agents following the release of these documents.
But the disclosures do not show the jab is unsafe, and independent scientists and health agencies worldwide continue to say that the benefits of the vaccine outweigh the risks.
Pfizer also denied that Johnson was arrested. A spokeswoman for Pfizer told AFP it was "absolutely not true" and "ridiculous."
Contacted by AFP, the Federal Bureau of Investigation declined to comment.
Johnson lives in Westport, Connecticut, according to his biography on the Pfizer website and his LinkedIn profile. A spokesman for the local police department told AFP: "We have no information regarding this matter."
The Vancouver Times "About Us" page explains that the website writes satirical articles. The story about Johnson is classified as "satire," and a disclaimer was added at the bottom of the page saying: "This is a satire article. Health officials in Canada consider vaccines to be safe and effective."

Screenshot of the Vancouver Times, taken on May 11, 2022

Screenshot of a disclaimer added to a Vancouver Time article, taken on May 11, 2022
But when the article is shared on social media these warnings are not visible, possibly misleading users.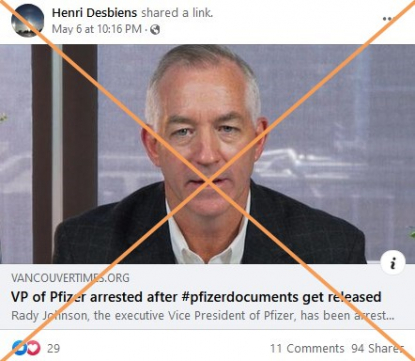 Screenshot taken on May 12, 2022, shows a Facebook post
This is not the first time that the outlet published an article falsely announcing the arrest of a public figure linked to current affairs under the guise of "satire."
In March 2022, it falsely announced that Disney CEO Bob Chapek was arrested for human trafficking.