US documentary revives Trump's unproven election fraud claims
Former US president Donald Trump claims a recent documentary "proves a massive illegal ballot harvesting operation took place" during the 2020 election. But experts say the evidence cited in the film is circumstantial and does not support any such allegation of wrongdoing at the polls. Dozens of judges have dismissed claims of fraud and there is ample evidence that the ballot was the most secure presidential vote ever held.
The documentary "2,000 Mules," produced by conservative filmmaker Dinesh D'Souza, "proves a massive illegal ballot harvesting operation took place in the 2020 election -- especially in key battleground counties like Milwaukee County," Trump said in a statement published May 3, 2022 on his website.
Posts promoting the film have been shared thousands of times on Facebook, Instagram and Twitter, according to CrowdTangle, a social media insights tool. Trump held a watch party at Mar-a-Lago in Florida on May 4, which was attended by US Congresswoman Marjorie Taylor Greene and former Trump attorney Rudy Giuliani. The film was also screened at the former president's May 6 rally in Greenburg, Pennsylvania.
Rumble, a video platform, said in a May 9 statement that the film had grossed more than $1 million in its first 12 hours.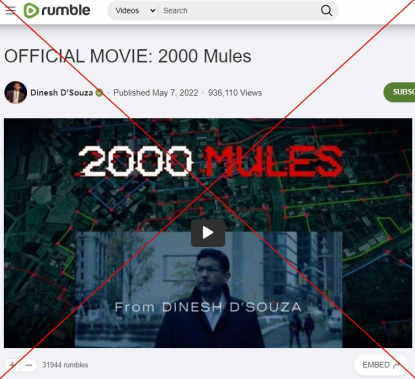 Screenshot taken on May 12, 2022 of the "2000 Mules" film on Rumble
Featuring an hour and a half of suspenseful music, news footage and speculative interviews, "2,000 Mules" suggests a conspiracy in which thousands of people, known as "mules," were paid to deliver illegal votes at drop boxes in swing states such as Georgia, Pennsylvania and Wisconsin. The film contends that video surveillance and cell phone geolocation data compiled by True the Vote, a conservative, Texas-based vote-monitoring group that has previously promoted misinformation about elections, proves organized fraud took place.
"They rigged and stole the 2020 presidential election," says D'Souza, who in 2014 pleaded guilty to campaign finance fraud -- a crime for which Trump later pardoned him -- in the film. "We cannot be OK with this, we cannot simply move on."
Ballot harvesting is among theories cited by Trump supporters on social media in the aftermath of his 2020 defeat. While isolated instances of suspected fraud have been detected in the 18 months following the November 2020 poll, no court has backed the claim that it could have materially affected the outcome of the election.
"The purported evidence in the film is merely circumstantial and the filmmakers have leaped to outrageous conclusions without sufficient justification," said Barry Burden, director of the Elections Research Center at the University of Wisconsin-Madison.
AFP reached out to D'Souza, True the Vote and Trump's office for comment. No replies were forthcoming by the time of publication.
Purported cell phone data doesn't prove fraud
In the documentary, True the Vote President Catherine Engelbrecht and Gregg Phillips, who has previously promoted false claims of voter fraud, say they obtained geolocation data that supports the allegation that illegal ballot harvesting took place in 2020.
When cell phone users enable location-sharing in smartphone applications, some of those apps share or sell that anonymized location data to other firms. True the Vote and its contractors purportedly purchased such data in several battleground states from before and after the presidential election in the US.
Network providers themselves, such as AT&T, have also sold customers' anonymized location data in the past, sometimes resulting in federal fines. Experts told AFP it is unclear to what extent those sales still occur, but that there remains a legal marketplace for cell phone users' geolocation data.
"These companies don't sell data directly to people, usually to third parties to aggregate," said Jason Hong, a professor in the Human-Computer Interaction Institute at Carnegie Mellon University. "There are also other companies that collect data from smartphone apps and sell that, e.g. Grindr."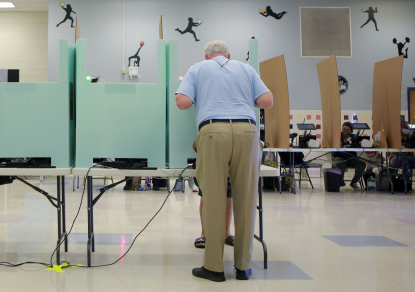 A poll worker assists a voter on Election Day at Robert E. Lake Elementary School on November 3, 2020, in Las Vegas ( AFP / Ronda Churchill)
Engelbrecht and Phillips say in the film that their data shows more than 2,000 people visited multiple ballot drop boxes and non-profit organizations in cities including Atlanta and Philadelphia. If a cell phone user went near a drop box more than 10 times and a non-profit more than five times between October 1, 2020 and Election Day, they were considered a "mule."
Based in part on one interview with an unidentified whistleblower in Arizona, Engelbrecht and Phillips claim non-profits paid these "mules" to pick up and deliver fraudulent votes to ballot drop boxes. But the purported whistleblower, identified in the film as a receptionist, does not say who paid her or how much she earned -- and experts told AFP the film's assertion is unproven.
"Cell phone tracking data is insufficient to establish anything other than a person was within 100 feet of a particular location," said Charles Stewart, a political science professor at the Massachusetts Institute of Technology. "It can't establish precisely where they were nor, importantly, what they were doing."
For example, someone who purportedly visited several drop boxes could be a delivery person, cab driver or postal worker who works in the area. Burden said elections officials would also have legitimate reasons to visit drop boxes, which have several security mechanisms in place. And drop boxes are intentionally placed in high-traffic areas such as libraries and college campuses, meaning average citizens could potentially come into contact with them in their daily routines.
"A lot of cell tower data doesn't use GPS," Hong said. "So you'd get a lot of false positives if you're trying to do fine-grained estimations of behavior."
In September 2021, the Georgia Bureau of Investigation said in a letter that cell phone geolocation data provided by True the Vote was not evidence of illegal ballot harvesting in the state.
"As it exists, the data, while curious, does not rise to the level of probable cause that a crime has been committed," GBI Director Vic Reynolds said in the letter, as reported by Georgia Public Broadcasting.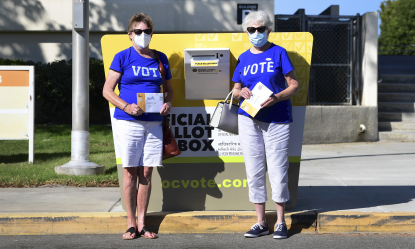 Wearing "Vote" t-shirts, Jeannie Osbourne (L) and Judy Nader stand beside an official Orange County ballot drop-box as they prepare to cast their ballots in Santa Ana, California on October 13, 2020 ( AFP / Frederic J. Brown)
Ballot collection legal in many states
Aside from cell phone geolocation data, "2,000 Mules" features video surveillance of ballot drop boxes in battleground states. Engelbrecht says in the film that True the Vote obtained the footage through open records requests.
The grainy videos appear to show people dropping off multiple ballots at drop boxes, sometimes late at night. However, none of the clips show people dropping off ballots more than once -- and they do not prove the voters were part of an illegal ballot harvesting scheme.
Returning ballots for another person is called ballot collection or, pejoratively, "ballot harvesting." In 30 states -- including Arizona, Georgia and Michigan, which are mentioned in "2,000 Mules" -- someone other than the voter is "explicitly allowed to return a voted ballot on behalf of another voter," according to the National Conference of State Legislatures.
Many of those states only allow a family member, household member or caregiver to do so, or they place limits on how many ballots can be returned at one time. However, other states do not specify such restrictions.
Americans have been voting by mail since the Civil War, when soldiers were permitted to cast their ballots from the battlefield.
In the 1980s, California became the first state to allow voters to request absentee ballots for any reason. The coronavirus pandemic did give rise to an increase in the use of ballot drop boxes, but many states have used the boxes and permitted ballot collection for years. Nearly one in six voters nationwide used drop boxes in the 2016 election.
Voters arrive at Waddell Language Academy in Charlotte, North Carolina shortly after the polls opened on November 3, 2020 ( AFP / Grant Baldwin)
"Even if they have video of people dropping off multiple ballots, all states have exceptions to their drop-off laws," MIT's Stewart said. "Without evidence to the contrary, the video establishes nothing."
Georgia election officials have reviewed several videos included in "2,000 Mules," according to the Atlanta Journal-Constitution. Secretary of State Brad Raffensperger said during a recent debate that one clip showed a man submitting five ballots for himself and his family members.
The Cybersecurity and Infrastructure Security Agency said in a November 2020 statement that the election was "the most secure in American history." Since then, evidence that widespread voter fraud did not occur has only grown.
Dozens of lawsuits from Trump and his allies aimed at overturning the election failed, and the US Supreme Court dismissed several cases challenging the results in key battleground states. Numerous audits and recounts in those states, including Arizona, Georgia, Michigan, Pennsylvania and Wisconsin, reaffirmed President Joe Biden's win. Officials from both parties, including Trump's own attorney general, William Barr, have repeatedly quashed claims of widespread fraud.
"They say there were on the order of 2,000 'mules,' field operatives paid to stuff ballot boxes," said Douglas Jones, associate professor emeritus in the Department of Computer Science at the University of Iowa. "Small conspiracies stay secret, but with that many participants, it would be extraordinarily difficult to recruit that many people without some of them recording every conversation and leaking every criminal detail of the scheme."
AFP has previously debunked claims of fraud affecting the outcome of the 2020 US election.