This digitally-altered image does not show police fleeing attack in southeast Nigeria
A picture of two policemen who appear to be running away from trouble has been shared dozens of times on Facebook, alongside a claim that it shows Nigerian officers fleeing gunmen who attacked their headquarters in southeastern Nigeria. This is false; the picture has been manipulated to create this impression. The actual image was taken in the country's capital Abuja in 2017 during a clash between police and protesters. 
"Breaking!!!! Policemen on the run as Unknown Gunmen (UGM) open fire on Divisional HQ in Imo, many Feared Dead," reads the Facebook post, which has been shared more than 150 times since it was published on March 21, 2021.
Imo is a state in southeastern Nigeria.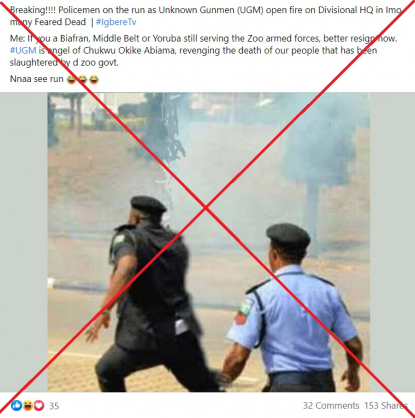 A screenshot taken on March 22, 2021 showing the false post
The same image has been shared here, here and here, repeating the claim and adding that the purported attack is "revenging the death of our people" at the hands of the "zoo" government, a term frequently used by secessionist Biafrans to describe the rest of Nigeria.
However, the claim is false and the image used as evidence in the post has been altered.
Manipulated image 
A reverse image search led to the original photo, which was taken during a protest that turned violent in Nigeria's capital city Abuja. The original shot clearly shows five people rather than two, including a third officer wearing a reflective jacket attempting to restrain a man. These two were erased from the digitally-altered image shared on Facebook.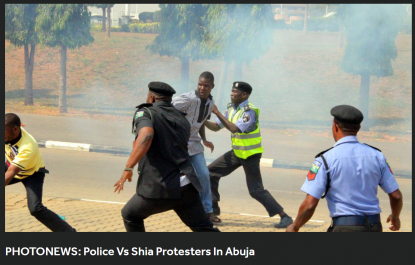 A screenshot taken on March 23, 2021, showing the original image
The event was reported by local media here and here in January 2017 – four years earlier than the false post. A Muslim group known as Islamic Movement in Nigeria (IMN) had staged a protest that led to clashes with police. AFP reported on a subsequent clash between the police and the Shia group in Abuja.
Meanwhile, officials in Imo confirmed an attack on a police station in Imo on March 20, 2021. Only one officer was reportedly injured and the armoury, the target of the raid, was not breached.
The false post originated from IgbereTV, a Facebook page that supports the secession of Biafra -- a number of states in Nigeria's south -- from the rest of the country. The page and other pro-Biafra pages spread misinformation, some of which we have previously debunked here, here, here and here.