Finishing Trump's border wall not part of Texas plan
Social media posts claim that Texas's "Operation Lone Star" is aimed at completing former US president Donald Trump's controversial Mexico border wall project, which his successor has moved to end. This is false; officials say the operation does not include wall construction, and announcements on it do not mention border barrier work.
"Texas has launched 'Operation Lone Star' to finish the border wall themselves," says a March 21, 2021 Facebook post.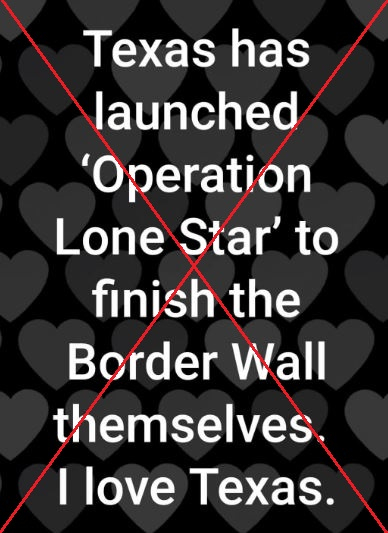 A screenshot of a Facebook post taken on March 23, 2021
The claim also appears on Facebook here and here, and on Twitter here and here.
Trump's pledge to build a wall on the southern US border was a central part of his run for the presidency in 2016. He promised that Mexico would pay for the barrier -- something that did not occur.
President Joe Biden -- who is facing mounting criticism over a rising number of migrants at the border -- opposes the wall. He called it a "waste of money" in a January 20 proclamation in which he ordered that existing construction projects be paused and said that it "shall be the policy of my Administration that no more American taxpayer dollars be diverted to construct a border wall."
As of the day before Biden took office, 458 miles of wall -- most of it to replace existing barriers -- had been completed, while 280 miles had yet to be finished, according to data from US Customs and Border Protection.
Texas launched "Operation Lone Star" on March 6 with the aim of denying "Mexican Cartels and other smugglers the ability to move drugs and people into Texas," and expanded it 11 days later.
But neither announcement about the operation -- which involves the Texas Department of Public Safety (DPS) as well as National Guard forces -- mentioned work on Trump's border wall.
The operation "does not include wall construction," a spokesperson for Texas Governor Greg Abott's office told AFP -- something also confirmed by DPS.
The Texas Military Department said it is "mobilizing approximately 500 service members to provide additional support to the Texas Department of Public Safety in deterring transnational criminal networks along the US-Mexico Border."
"This does not include activities related to the border wall project," it added.
AFP Fact Check has debunked other inaccurate claims about the wall, illegal entries into the United States, and an operation targeting sex traffickers.