Anti-lockdown group promotes misleading claims about face masks as 'fact check'
A Facebook post in South Africa makes several claims about masks, including that they are ineffective in preventing the spread of Covid-19 in the general population and that they inhibit children's social development. But these allegations are missing context: health experts say masks reduce virus transmission when worn properly. AFP Fact Check has previously debunked similar claims about masks affecting children's psychological evolution.
"Masks are 'safety blankets'. There is no scientific evidence to support their use in the community. Feel free to wear them if they make you feel safe," reads the first part of the Facebook post, styled as a fact check with external links to research papers and medical advisories.
A graphic next to the caption urges people to "#unmaskyourkids". It  makes the point that only "one randomised control trial has been conducted on the effectiveness of masks against SARS-COV-2" and "found no difference in the incidence of the virus between those wearing masks and those not".
The post has been shared more than 330 times and attracted over 200 comments since it was published on March 8, 2021.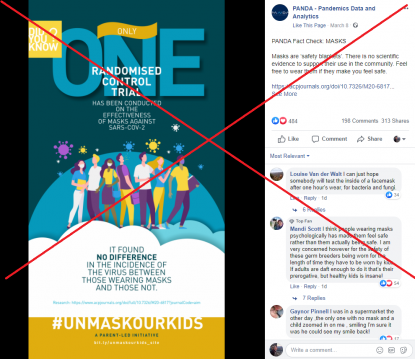 Screenshot of the misleading post, taken March 10, 2021
The Facebook page behind the claims is operated by an organisation called Pandemic Analytics and Data (PANDA), a global collection of health, data and investment specialists advocating for an end to pandemic lockdowns.
Their post declaring the use of face masks ineffective lacks context: the findings from a growing body of real-world studies show that masks reduce transmission of the SARS-CoV-2 virus that causes Covid-19.
"There are enough really well-controlled studies that show that masks are effective at an individual, state and national level," Dr Benjamin Neuman, an expert in coronaviruses who heads the Biological Sciences department at Texas A&M University-Texarkana, told AFP Fact Check.
One example being this study from December 2020 which found that masks block 99.9% of large Covid-linked droplets, as AFP reported.
Furthermore, health authorities, including the World Health Organization (WHO)  and the US Centers for Disease Control and Prevention (CDC), advise wearing masks to help protect against the spread of infections.
"Over the course of the pandemic, the scientific evidence and our understanding of masks have grown," the CDC told AFP Fact Check in March 2021. "The data we now have conclusively show that widespread use of masks is a very effective way to reduce the spread of Covid-19."
Studies show masks are effective
PANDA's reference to a single randomised trial that tested the efficacy of masks is accurate, but it fails to note the trial's shortcomings.
Chief among the limitations is that the trial, conducted in Denmark, did not test the effectiveness of masks in decreasing transmission when individuals are already infected with the Covid-19 virus.
"It did not measure... if an asymptomatic infected person who wears a mask is less likely to transmit than someone who is unmasked. The primary reason to wear masks is to protect others," Dr John O'Horo, Associate Professor of Medicine and an infectious disease specialist at Mayo Clinic, told AFP Fact Check.
"There is evidence that it protects wearers as well, and that evidence is getting stronger, but the DANMASK trial explicitly didn't address this critical reason why this is an effective measure."
Multiple studies (see here and here) have shown that masks could help reduce community spread.
Furthermore, the researchers from the Danish study themselves listed multiple limitations with the trial, including "inconclusive results, missing data, variable adherence, patient-reported findings on home tests, no blinding and no assessment of whether masks could decrease disease transmission from mask wearers to others.
They cautioned against drawing conclusions based on their results.
"The findings, however, should not be used to conclude that a recommendation for everyone to wear masks in the community would not be effective in reducing SARS-CoV-2 infections, because the trial did not test the role of masks in source control of SARS-CoV-2 infection."
WHO recommends masking up
In support of its argument, PANDA links to WHO guidelines from a report in June 2020, and this quote in particular: "At present, there is no direct evidence (from studies on Covid-19 and in healthy people in the community) on the effectiveness of universal masking of healthy people in the community to prevent infection with respiratory viruses, including Covid-19."
However, the WHO has since updated its guidelines to reflect new data in its latest report, issued on December 1, 2020.
"(The) WHO continually updates our guidance on the use of masks in relation to new evidence around the transmission of Covid-19", the UN health agency told AFP Fact Check, adding that PANDA's post ignored context by taking just "three lines from a 16-page report".
A sign painted on the sidewalk indicating the use of face masks is mandatory in Berlin on March 10, 2021. (AFP / John Macdougall)
The updated WHO report looks at a number of new studies on face masks used in both health and community settings. 
"At present there is only limited and inconsistent scientific evidence to support the effectiveness of masking of healthy people in the community to prevent infection with respiratory viruses, including SARS-CoV-2," the report concedes. 
However, the "limited evidence" is largely due to the fact that the Sars-CoV-2 virus was only identified in January 2020, and research is still ongoing because the virus is relatively new. The WHO still recommends wearing masks for the general population. 

Studies of other viruses indicate that masks help decrease transmission of virus particles. "By 'limited evidence' WHO means that there has not yet been a sufficient number of studies into the effectiveness of mask use in indoor and outdoor community settings in direct relation to the new Sars-CoV-2 virus that are adequate in terms of scientific rigour, scope and scale, and have been comprehensively peer reviewed," the WHO explained. 
"Studies of influenza, influenza-like illness, and human coronaviruses (not including Covid-19) provide evidence that the use of a medical mask can prevent the spread of infectious droplets from a symptomatic infected person," the WHO noted.
The WHO considers masks as effective in reducing the airborne transmission of Covid-19.
"Masks are a key measure to help stop the spread of SARS-CoV-2, the virus that causes COVID-19, but must be used along with other measures such as good hand hygiene and physical distancing," it said.
Masks and children
The third claim in the Facebook post that masks harm children's social development is baseless, according to experts. AFP Fact Check previously addressed the claim here.
Children wear face masks at the Petri primary school in Dortmund in western Germany, February 22, 2021. (AFP / Ina Fassbender)
Even with masks, people can communicate with their eyes and facial expressions, according to Jennifer Katzenstein, Director of Psychology and Neuropsychology at Johns Hopkins.
For evidence, PANDA links to a working report penned by Canadian researcher and fellow member, Denis Rancourt, who reviews the use of face masks and concludes that the "harms from this imposition are palpable, and potentially long-term and gargantuan, not the least of which is the psychological training of the public to comply with an absurd measure that has direct personal negative impact."
However, this working report has not been submitted for journal publication and is not peer-reviewed. Furthermore, Rancourt's article links to a preprint of a flawed German study on mask-use in children. 
An editorial note preceding the German study, published on Research Square, advises: "Due to multiple limitations, this study cannot demonstrate a causal relationship between mask wearing and the reported adverse effects in children. Most of the respondents were parents, and the survey was distributed preferentially in social media forums that, according to the authors, 'criticize the government's corona protection measures in principle'."
What is PANDA? 
PANDA was co-founded by Nick Hudson and Peter Castelden, who are based in South Africa. Hudson is the current chairman of PANDA and also the CEO of Sana Partners, a South African private equity company. PANDA's website is registered in Canada, and lists team members from around the world in a variety of professions.
In May 2020, Hudson sent an open letter to South Africa's President Cyril Ramaphosa calling for an end to what was then the country's "Level 3" lockdown. 
PANDA has promoted the Great Barrington Declaration, a strategy that calls for isolating vulnerable populations at home while allowing others to move about freely--to build so-called "herd immunity". This strategy is not recommended by the WHO.
"Never in the history of public health has herd immunity been used as a strategy for responding to an outbreak, let alone a pandemic. It is scientifically and ethically problematic," WHO Director-General Tedros Adhanom Ghebreyesus said in an address in October 2020.
AFP previously fact checked the Great Barrington Declaration's proposals here.