A Danish health official who fainted at a press conference later said she was fine
A video has been viewed thousands of times on Facebook and Instagram alongside a claim that it shows a health official who died at a press conference where Denmark announced it would suspend AstraZeneca Covid-19 vaccinations. The claim is false: the head of the Danish Medicines Agency Tanja Erichsen later tweeted that she had recovered. 
The clip was posted here on Instagram on April 15, 2021, and has been viewed more than 5,000 times since.
"Denmark bans AstraZeneca vaccine / while the announcement is ongoing / one of the government officials fainted and died," the Indonesian-language text superimposed on the clip reads.
The post's caption reads, "Denmark. One of the Danish government officials collapsed instantly and reportedly died during the announcement to ban the use of AstraZeneca's Vaccine."
"The exact cause of her death remains unknown."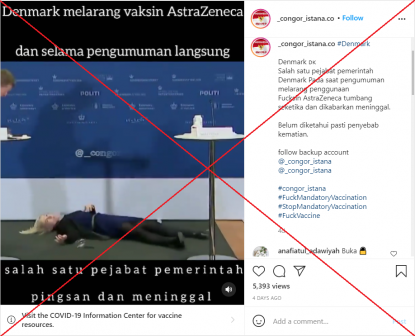 Screenshot of misleading post, taken on April 20, 2021
On April 14, 2021, Denmark announced it would stop using the AstraZeneca Covid-19 vaccine altogether, becoming the first European country to do after reports of rare but serious blood clots among those who had received the jab.
The Nordic country said it would continue its immunisation campaign using the Pfizer/BioNTech and Moderna vaccines following two cases of thrombosis, one of them fatal, in people who had received the AstraZeneca jab.
The same clip and screenshot was posted here and here on Facebook alongside a similar claim.
The claim is false. 
Keyword searches found that the official in the misleading clip was  Tanja Erichsen, the head of the Danish Medicines Agency.  
A longer video was posted by TRT World here on YouTube on April 15, 2021, headlined: "Denmark official faints during Covid-19 conference." 
The video's caption reads: "The head of the Danish Medicines Agency, Tanja Erichsen, fainted during a press conference on live TV over the country's decision to stop using the AstraZeneca vaccine.
"The agency later announced that she was taken to the hospital as a precaution and has since recovered."
Below is a screenshot comparison between the misleading clip (L) and TRT World's video (R):
Screenshot comparison between the misleading clip (L) and TRT World's video (R)
The Danish Medicines Agency tweeted on April 14 that Erichsen had fainted during the press conference but later recovered. 
On April 19, 2021, Erichsen tweeted a picture of herself and said she was doing well. 
"Thank you all very much for caring and your messages – it warms my heart. It was a hard blow to my head, but I have mostly recovered now. The large amount of support I have received both here on Twitter and other platforms has meant a lot to me. A HUGE thanks," she said in the Danish-language tweet. 
Tusind tak til jer alle for omsorg og hilsner – det luner. Det var et hårdt slag mit hoved måtte tage imod, men jeg er heldigvis i god bedring nu. Det har betydet rigtig meget for mig med den store støtte jeg har fået både her på Twitter samt på andre platforme. En KÆMPE tak ? pic.twitter.com/EDsNLC6e4F

— Tanja Lund Erichsen (@LMSTErichsen) April 19, 2021
While the tweet was posted by Erichsen and shows her photo, the account was taken over in August 2021 by her successor, Line Michan, and now shows Michan's name.
UPDATE: This article was updated on November 24, 2021, to clarify that the Twitter account where Erichsen posted a message after her collapse was later taken over by another person and no longer shows her name.