CNN anchor did not condemn Nigeria police unit, Covid-19; photo is doctored
A widely shared image claims to show CNN anchor Don Lemon denouncing Nigeria's controversial Special Anti-Robbery Squad (SARS) and Covid-19 as "two deadly viruses" killing people in the West African nation. The photo emerged as Nigeria faces widespread protests over police brutality. But while extrajudicial killings by SARS officers and the spread of the novel coronavirus have together claimed more than a thousand lives, AFP Fact Check found that the picture was digitally manipulated to change the news banner. 
The image circulating in social media posts shows a television screen displaying the journalist during a TV segment, and a news ticker reading: "TWO DEADLY VIRUSES ARE KILLING NIGERIANS: COVID-19 AND SARS".
Image showing the purported headline
SARS in this case stands for Nigeria's controversial Special Anti-Robbery Squad, which was disbanded this month in the face of mass protests accusing officers of using excessive force.
The abbreviation also references a respiratory illness of the same name identified in 2003.
The image was shared on Instagram by popular Nigerian entertainers Samuel Oguachuba, also known as Samklef, and Tunde Ednut who has 2.5 million followers.
Screenshot taken on October 15, 2020, showing the false Instagram post
Both Samklef and Ednut were recent subjects of debunks by AFP Fact Check: one claiming that an alleged kidnapper had been sentenced to death in Nigeria and another about the country's debt to China.
AFP Fact Check found the viral image has also circulated in Nigeria and Ghana, including this tweet which was shared more than 12,000 times, as well as on Facebook and Instagram. 
Nigerians have died from Covid-19 and SARS activities 
Records show Covid-19 and Nigeria's SARS unit have both been responsible for deaths in Nigeria.
More than one thousand people, including former chief of staff to Nigerian President Muhammadu Buhari, Abbah Kyari, have died from Covid-19 complications.
And at least 82 cases of torture, ill-treatment and extrajudicial execution by SARS operatives were documented between January 2017 and May 2020, according to Amnesty International.
Several months of unyielding calls to shut down the police's tactical unit over these accusations sparked widespread protests in early October, with young Nigerians demanding the scrapping of the SARS squad and an overhaul of the entire police system.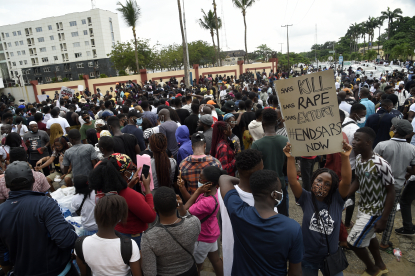 Image of a lady raising a placard to protest against SARS (AFP / Pius Utomi Ekpei)
While Nigeria's top police chief Mohammed Adamu ordered the replacement of SARS with a new unit called Special Weapons and Tactics (SWAT), alongside promises of reform by the government, demonstrations have continued in several cities, including in Lagos and Abuja.
Old photo
The CNN headline labelling both Covid-19 and the activities of SARS as twin viruses in Nigeria is false. The image was altered from an earlier broadcast by Lemon which focused on the novel coronavirus and racism in America. 
AFP Fact Check ran a Google reverse image search and found the original version of the image in a tweet published on May 28, 2020 -- more than four months before the rallies against police brutality in Nigeria gained international prominence.
The TV banner in the original photo reads: "TWO DEADLY VIRUSES ARE KILLING AMERICANS: COVID-19 AND RACISM".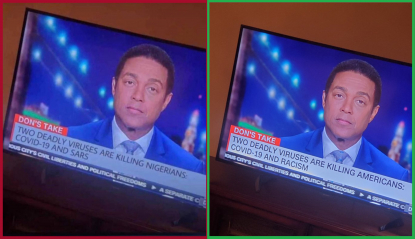 Comparison images taken on October 15, 2020, show the manipulated headline (L) and the original version (R)
Lemon was commenting on the reignited anti-racism protests that followed the death of 46-year-old George Floyd. The Black man was seen on camera pleading for his life as a white police officer kneeled on his neck for more than five minutes in the city of Minneapolis, Minnesota. 
A comparison of the two images shows the false version was created by replacing "AMERICANS" with "NIGERIANS", and "RACISM" with "SARS".
The photo was taken from a CNN Tonight's show of May 28, 2020. Although the full version of the show is not publicly available, AFP Fact Check used the time stamp on a similar version of the image to conclude it was taken a few minutes after an interview with Lemon's colleague Chris Cuomo.
CNN's @DonLemon: "It's not incumbent on black people to stop racism."

After the death of George Floyd sparked outrage across the country, CNN's Don Lemon speaks frankly to @ChrisCuomo about the realities for people of color living in America. https://t.co/s7orve50PP pic.twitter.com/tFbBacYMuZ

— CNN Tonight (@CNNTonight) May 28, 2020

Furthermore, Lemon's report was broadcast a day before the airing of the thirteenth edition of CNN Global Town Hall series on coronavirus, which was promoted during his show just above the network logo in the bottom right corner.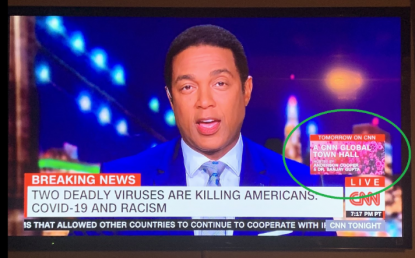 Screenshot taken on October 15, 2020, shows the advert for CNN Global Town Hall
Manipulating CNN broadcast images to spread false claims is common in Nigeria. AFP Fact Check debunked this claim that Buhari had tested positive for Covid-19, and a similar version describing cases of Covid-19 in Nigeria as "false".