False rumour of kidnap accused's death penalty sentence originated from click-bait article
Numerous posts shared hundreds of times on social media claim that alleged kidnapping kingpin, Chukwudumeme Onwuamadike, has been sentenced to death in Nigeria. But the claim is false; authorities have dismissed the unfounded rumour, which originated from a website that publishes click-bait content. A prosecutor also confirmed that all cases against Onwuamadike are ongoing.
"A Lagos High Court has sentenced notorious kidnap kingpin, Chikwudubem Onwuamadike, also known as Evans, to death," reads an Instagram post published by popular Nigerian entertainer Samuel Oguachuba, otherwise known as Samklef. "The court gave this judgement on Monday (sic)."
A screenshot taken on August 24, 2020, showing the misleading Instagram post
The viral post was shared alongside a video clip showing a screengrab of the same claim published on Samklef's blog. It has been viewed more than 22,000 times on Instagram since August 19, 2020.
The claim has circulated on several social media platforms in Nigeria, including on Facebook, Twitter and Instagram, as well as on several news sites such as Jamyco and GistMania -- both known for spreading misinformation. AFP Fact Check recently debunked false articles from the websites here and here.
The rumour about Onwuamadike's death sentence also emerged amid reports that Nigeria has reintegrated 601 "repentant" Boko Haram fighters into society. Critics demanded justification from the government for pardoning ex-insurgents, despite repeated killings, while purportedly sentencing kidnappers to death.
A screenshot taken on August 25, 2020, showing some of the criticism on Twitter

Evans' arrest
Nigerian police arrested Chukwudumeme Onwuamadike -- also known as "Evans" -- on June 10, 2017, at his Lagos home. He faces multiple counts in three courts and five separate trials. 
AFP Fact Check attended one of the trials in Lagos on August 27, 2020, where Onwuamadike appeared with alleged accomplices Joseph Emeka, Chiemeka Arinze and Udeme Upong. 
They have been charged with attempting to kidnap prominent Nigerian transporter Vincent Obianodo; murders of his police aide and driver; attempted murder; conspiracy to commit a felony, namely kidnapping; and sale and transfer of firearms, according to the court registrar's office. They have pleaded not guilty and the trial was postponed to September 17, 2020, after a day of witness cross-examination.
Details obtained by AFP Fact Check show that in the second of his five trials sitting in the same court, Onwuamadike stands accused alongside Victor Aduba, a dismissed Nigerian military officer, of the alleged kidnapping and unlawful possession of firearms. Both have pleaded not guilty and the case has also been postponed to September 17, 2020.
No death sentence
In fact, all criminal cases involving Onwuamadike are ongoing -- none have proceeded yet to judgement and sentencing, said Y.A Sule, a member of the prosecuting team who spoke to AFP Fact Check. 
The director of public affairs for the Lagos justice ministry, Kayode Oyekanmi, also dismissed the rumour of Onwuamadike's death sentence as untrue.
"The news about Evans is FAKE," Oyekanmi wrote in a text message to AFP Fact Check. "No truth to it at all."
Furthermore, no credible news outlet in Nigeria has reported on Onwuamadike being sentenced to death.
Fresh posts repeating the false claims were published in November 2021. However, as this report from November 29, 2021, shows, the trial remains ongoing.
Story originated from a click-bait website 
Using the social media monitoring tool CrowdTangle, AFP Fact Check found that the false article was first published on August 17, 2020, on a website called Observer Times. 
It ran with a click-bait headline, which reads: "Breaking: ‪Billionaire Kidnappers, Evans To Die by Hanging", but the body of the article does not actually go on to say that he was sentenced to death.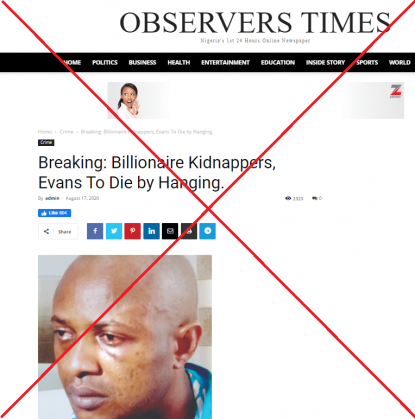 Screenshot taken on August 24, 2020, showing the click-bait headline
Rather, the text says the suspected kidnapper "may get life imprisonment or death penalty sentence" because the law in Lagos prescribes this punishment for offences involving kidnapping and forceful extortion.
While the referenced law indeed exists in Lagos state, the article's author did not cite any source reporting that Onwuamadike had been convicted, let alone sentenced to death. 
The Kidnapping Prohibition Law of 2017, under which Onwuamadike is being tried, imposes a penalty of life imprisonment for suspects found guilty of kidnapping, and the death penalty when their victim dies in the course of a kidnapping.
Photo of Evans' family crying over purported death penalty? 
In other social media posts (archived here and here), an image of five people who appear to be crying accompanies a claim that it shows Evans' family members weeping following the word of his purported death sentence.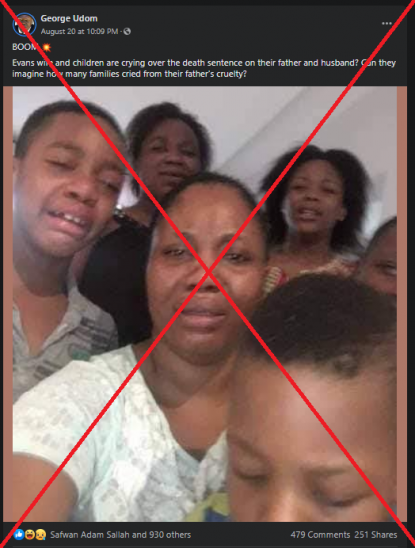 Screenshot taken on August 24, 2020, showing one of the misleading Facebook posts
However, this is false. The image has been circulating online since at least June 17, 2017, in articles reporting that Onwuamadike's wife had asked Nigerians for forgiveness on behalf of her husband.
The story was widely published by Nigerian daily newspapers, including Vanguard and Daily Trust.
UPDATE: Debunk updated to include fresh claims and evidence