This composite image is based on a model of a biblical palace in Israel
An image that appears to show several buildings carved into a mountain has been shared dozens of times on Facebook with a message asking who built the structure, which the author claims can be found in Africa. However, the monument isn't real; it is a model of what King Herod's palace could have looked like in biblical times, while the picture itself is a composite. The ruins on which the model is based are found in the Masada National Park in southern Israel and not in Africa.
A Facebook post, archived here and published on July 22, 2020, includes an image of what looks like a monument perched on the side of a mountain surrounded by arid land. Shared dozens of times, the caption in the post asks "who built this in africa (sic)".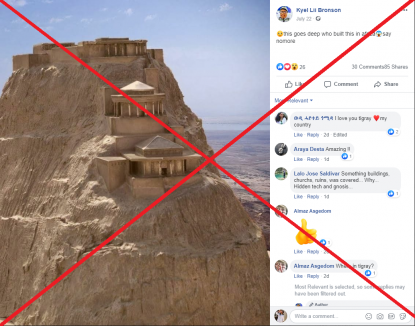 Screenshot of a misleading Facebook post, taken on July 24, 2020
People commenting on the picture suggest it may have been taken in Tigray, Ethiopia, a popular stop for tourists and a region where Ethiopians believe the Ark of the Covenant was brought from Jerusalem by King Solomon 3,000 years ago.
The biblical references are not far off but reverse image searches show that the picture is only a composite and the impressive-looking structure is an imaginary depiction of an ancient site in Israel, not in Ethiopia or anywhere else in Africa.
Only a model
The image can be found on Wikimedia Commons, a database free for public use. 
Under the file name "Masada BW A.JPG", the description of the image says that it is a "model of the northern palace". Dated February 24, 2008, it is credited to Berthold Werner. 
"This is a retouched picture, which means that it has been digitally altered from its original version," reads additional information on the image, before specifying that it is composed of two pictures -- "one for the palace and one for the background".
Werner, who died in 2017, maintained his own Wikimedia page where he published multiple images of new and old sites in Israel.
Another Wikimedia page called Herod the Great replicates Werner's image in a section labelled "Models of the Northern palace at Masada".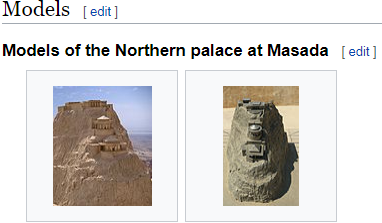 Screenshot taken from Herod the Great Wikimedia page on August 21, 2020, showing the image under a section called "Models"
Is Masada real?
Indeed, Masada exists, in Israel and not Africa, but only as ruins.
Aerial photos of Masada taken on May 13, 2008 (Photo credit:Menahem KAHANA / AFP)
Originally an ancient fortress constructed between 37 BCE and 4CE by Herod in Israel's Judean Desert, the site overlooks the Dead Sea. It was occupied by Jewish rebels after the Jewish revolt in the first century, also known as "the siege of Masada", where it was defended against a Roman army for months.
Masada today is a recognised heritage site and the model of Herod's imagined northern palace used by Werner in his image can be viewed on-site or downloaded from the Unesco website here.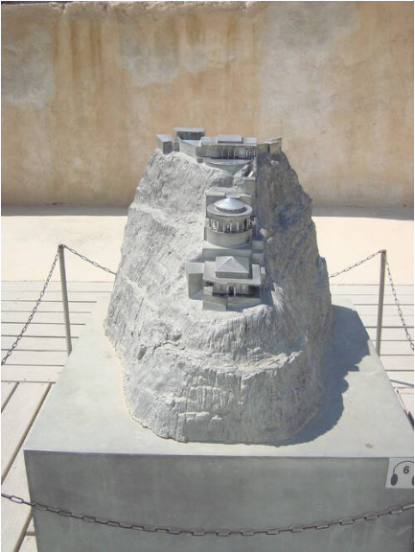 Screenshot of a model of Masada kept at the heritage site, taken from the UNESCO website on August 25, 2020