This fabricated headline was added to a screenshot of a CNN interview
A photo shared hundreds of times on Facebook claims to show the American cable news channel CNN describing cases of COVID-19 in Nigeria as "false", accusing the government of making them up to embezzle public funds. This is false: The image, taken from a CNN interview of New York's mayor, has been doctored and the false headline added to it. 
One Facebook post featuring the image, shared more than 200 times and archived here, claims that "Covid 19 cases in Nigeria are false because the government are (sic) taking advantage of it to embezzle, launder money and enrich themselves says CNN".
A screenshot taken on May 5, 2020, showing the misleading post
The image features a breaking-news banner that reads: "False COVID-19 cases in Nigeria". A smaller strap underneath it adds: "Nigerian government accused of taking advantage of the pandemic".
The same image has been shared in another Facebook post here, as well as on WhatsApp.
What does it show?
AFP ran multiple reverse image searches and found that the image showing CNN anchor Wolf Blitzer and New York Mayor Bill de Blasio was taken from this video of an interview in March.
The banner in the original video read: "FEMA declares New York 'major disaster' as coronavirus surges". Throughout the interview, there was not a single mention of COVID-19 cases in Nigeria. You can read the transcript here.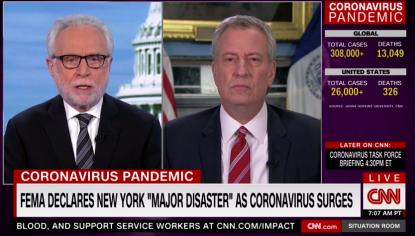 A screenshot taken on May 5, 2020, showing the actual CNN interview
Blitzer has had two other interviews with De Blasio since the pandemic hit the United States, the first on April 4 and the second on April 18, 2020, in which they wore different clothing. They did not speak about Nigeria in these interviews, either.  
Fabricated banner 
The misleading image was doctored by using a screenshot from the original CNN interview and replacing the original headlines, in this case with false claims about Nigeria.
Fabricated TV banners are frequently created either by using an editing tool like Photoshop or a meme generator like the website Break Your Own News, which has been used to make other false claims since the coronavirus outbreak went global.
One example was the story that Russian President Vladimir Putin had set lions loose to enforce a lockdown in the country, which AFP debunked here.
Below is a template from the website showing how easy it is to manipulate an image by simply adding new text in the respective headline fields.
Sample meme created using the meme generator Break Your Own News
As of May 5, 2020, Nigeria had recorded 2,950 positive cases of COVID-19, with 98 deaths, according to the country's centre for disease control.