This virtual image of the Australian bushfires was created using NASA data -- it's not a satellite photo
An image has been shared thousands of times in multiple posts on Facebook, Twitter and Instagram, alongside a claim that it is a photograph of the bushfires in Australia taken from space by a NASA satellite. The photo has been circulated in a misleading context; a Brisbane-based photographer said he created the image digitally using NASA's data of the Australian bushfires.
The purported image of Australia glowing red has been shared almost 10,000 times after it was published in this Facebook post on January 5, 2020. 
The caption states: "A 3D image of Australia, shot from a NASA satellite."
The image has been shared extensively on social media, including here, here, here and here on Facebook, here, here and here on Twitter, as well as here, here and here on Instagram, alongside a similar claim. 
The image has been shared in multiple languages, including French, Spanish, Catalan, Portuguese and Arabic. 
Below is a screenshot of the misleading post: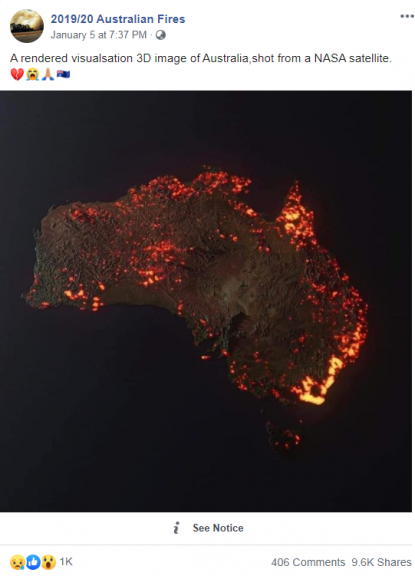 A screenshot of the misleading Facebook post
At least 25 lives, more than 1,800 homes and millions of hectares of land in Australia have been lost to the deadly bushfires that erupted in September 2019, as reported by AFP here on January 7, 2020. 
The photo has been shared in a misleading context; the image is a 3D virtual image created by a Brisbane-based photographer using NASA satellite data. 
A keyword search on Google found this January 5, 2020, Facebook post published by Anthony Hearsey, whose website states he is a photographer based in Brisbane, the capital of the Australian state of Queensland. The post has been embedded below.
The post's caption states in part: "This is a 3D visualisation of the fires in Australia. NOT A PHOTO. Think of this as prettier looking graph. 
"This is made from data from NASA's FIRMS (Satellite data regarding fires) between 05/12/19 - 05/01/20. These are all the areas which have been affected by bushfires."
In an email to AFP on January 6, 2020, Hearsey said he created the image on January 5 using data from NASA's Fire Information for Resource Management System (FIRMS). 
According to NASA's website, FIRMS "distributes Near Real-Time (NRT) active fire data within three hours of satellite observation from NASA's Moderate Resolution Imaging Spectroradiometer (MODIS) and NASA's Visible Infrared Imaging Radiometer Suite (VIIRS)."
Hearsey wrote: "The image presents past AND present fires… from the dates 05/12/19 - 05/01/20. The visual data from NASA is zoomed out, hence the density being high.
"The image is basically a graph based on that information. I cannot stress enough that Australia DOES NOT look like the image I created. It's a visualisation of the areas which have been affected to date."
Below is a screenshot comparison of the image in the misleading posts (L) and the FIRMS imagery of Australia between December 5, 2019, and January 5, 2020 (R):

Hearsey said the virtual image he made is "NOT a satellite photo", adding: "It's essentially an overlay onto a topographical view of Australia. The image was created in Cinema 4D. Essentially the topography was generated from Australian height maps. The fire overall was essentially the image from above, overlayed, and made to produce a glow.
"The image was actually a self educating lesson, which I shared. (I was learning some 3D techniques) The idea was to attempt to visualise data in a more interesting way…" 
Below is a genuine satellite imagery from NASA that shows Australia's bushfires, as well as the smoke generated from it, during the same period between December 5, 2019, and January 5, 2020: 
The view of the ongoing bushfires in Australia from space has also been captured here by the International Space Station, here by Japan Meteorological Agency's Himawari 8 satellite and here by European Space Agency's Sentinel-3 satellite. 
The misleading claim has also been debunked here by US fact-checking site Snopes and here by India's Vishvas News. 
Misinformation about the Australian bushfires crisis has circulated online as the deadly blazes continue to devastate the country's southeastern region in January 2020, as reported by AFP Fact Check here, here, here and here.