This video shows a religious event in Ivory Coast, not forced conversions in Nigeria
Nigeria's ex-aviation minister Femi Fani-Kayode tweeted a video of a crowd, claiming that the footage captured members of Nigerian Islamist groups Boko Haram and the Islamic State in West Africa forcefully converting people to Islam in Nigeria's northern Niger state. This is false; the social media user who originally posted the video clarified that the footage shows a religious event in Ivory Coast. AFP Fact Check confirmed the occurrence of this event with a local journalist in Ivory Coast.
The footage in Fani-Kayode's tweet has been viewed more than 100,000 times. The former Nigerian aviation minister, who has nearly one million followers on Twitter, is notorious for sharing misinformation related to politics and religion. AFP Fact Check has repeatedly debunked the politician's posts (see here, here and here).
Screenshot taken May 11, 2021, showing Fani-Kayode's tweet
"Boko Haram and ISWA forcefully converting people to Islam in the parts of Niger state that they have captured, conquered, occupied and flown their flag," reads the tweet from May 2, 2021 (also reposted on Facebook). "This is happening just two hours from Abuja! I warned you!"
Insecurity in Niger state
Niger is a state located in Nigeria's northern region. The state has been a hotbed for kidnapping, banditry, and attacks by Boko Haram fighters and members of Islamic State in West Africa (ISWA), an offshoot of the jihadist group affiliated with the Islamic State.
In March 2021, at least 25 residents of Niger state's Kutunku village were kidnapped. More recently, state governor Abubakar Sani Bello announced that the Boko Haram jihadists who infiltrated Niger state had hoisted their flags in a local community and abducted women.
Nigerian separatists trumpet Fani-Kayode's tweet
Fani-Kayode's tweet, published shortly after Bello's announcement, was later amplified by opposition groups and Nigerian separatists who warned that a similar takeover could extend to the southern region of the country if residents don't "take on" their governors.
"All of you in the South, if you don't take on your Governors, this is what await when they come (sic)," reads part of the caption on the post published by Simon Ekpa, a prominent supporter of Nigeria's outlawed Indigenous People of Biafra (IPOB).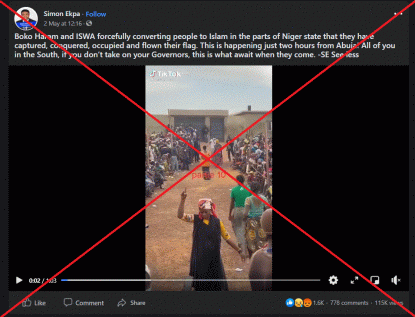 Screenshot taken May 11, 2021, showing the Facebook post
The separatist group is seeking independence for the indigenous Igbo people from the Nigerian state. Its supporters regularly share misinformation on social media to attack the country's leadership. AFP Fact Check has previously debunked claims shared by IPOB supporters, such as here, here and here.
Footage filmed in Ivory Coast, not Nigeria
In reality, the viral footage was filmed in Ivory Coast at an unrelated event.
AFP Fact Check traced the video using a TikTok handle displayed in the bottom right-hand corner and found it was previously published on the social network on April 27, 2021.
The footage carries a watermark labelled "partie 10" (meaning "part 10" in French) and is one of the 30 similar video clips uploaded by the same TikTok user. 
The original version of the viral clip was uploaded without a caption, which led some users to ask what they were looking at. The TikTok user who posted they video responded by explaining that it showed a deliverance session filmed in Ivory Coast's northern village of Kolia.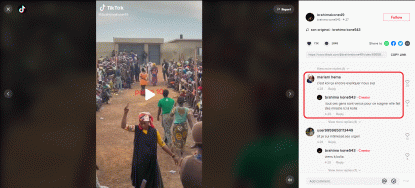 Screenshot taken May 11, 2021, showing the comment on TikTok
"All these people have come to be healed, she makes miracles happen here in Kolia," reads the English translation of the TikTok user's response.
Event to 'fight demonic spirits'
Local journalist M'ma Camara confirmed with AFP Fact Check that the event indeed took place in the northern Ivorian village where Maninka language is predominantly spoken.
Maninka can be heard in the viral video, according to Camara, who heads the foreign press association in Ivory Coast. She explained that a woman named Serena Fatima Cisse led the event.
"It's important to mention that in this region, according to residents, there are a lot of 'jinns'," Camara told AFP Fact Check. 
Jinn is an Arabic word for genie, a supernatural creature capable of possessing people.
She further explained that "Serena decided to help people [in Kolia] to fight demonic spirits" through the "gift of deliverance" from a Quranic verse.
AFP Fact Check found similar footage on Cisse's Facebook page. Using one of the livestreamed video clips on Serena's page as an example, we established that the viral video and several others shared on the page came from the same event.
Screenshots showing similarities between the viral footage and a live clip on Serena Fatima Cisse's Facebook page
The dusty pathway, arrangement of people, demarcating ropes and other physical features in the viral video clip match with those in the livestreamed clip.
Niger state government dismisses claim
Meanwhile, the Niger state government has dismissed the claim that the viral footage shows Boko Haram insurgents forcing people into Islam, denouncing it as "misleading".
"This widely shared video on social media is totally misleading and the work of those who wish to see the country up in flames," reads a tweet published by the government's Twitter account. "This video is an old video that does NOT even originate from Nigeria, talk more of Niger State."