This video shows a Lion Air flight experiencing turbulence over Indonesia in 2017
A video has been viewed thousands of times on Facebook, YouTube and TikTok alongside a claim that it shows the last moments before Sriwijaya Air flight SJ 182 crashed off the Indonesian coast in 2021. The claim is false; the footage actually shows a Lion Air plane experiencing turbulence in 2017.
The 30-seconds of footage was published on Facebook here on January 11, 2021. It has since been viewed more than 8,000 times.
The Indonesian-language post translates to English as: "THEY ARE SCREAMING, CALLING THE LORD'S NAME …
"Viral Video Moments before the Sriwijaya Air SJ 182 aircraft, Jakarta - Pontianak route crashed ... Oh my God ... Can't watch it
#SJ182 #prayforSJ182"
Screenshot of misleading post, taken on January 13, 2021
Indonesia's Sriwijaya Air flight SJ 182, which was carrying 62 passengers, plunged into the Java Sea on January 9, 2021, shortly after takeoff from Jakarta, as AFP has reported. 
The footage was also shared alongside a similar claim and viewed over 7,000 times on YouTube and TikTok. 
The video has also appeared with a similar claim in English here on Facebook, and in Chinese here on YouTube and here on Weibo. 
The claim, however, is false. 
-- 2018 footage -- 
The original footage was posted on Instagram here on October 29, 2018, by a user with the handle @marapi_singgalang.
Translated from Indonesian language to English, the post reads in part: "Deep condolences for the incident experienced by @lionairgroup plane #lionair #lionjt610.
"This is a video taken by myself on a flight that made me so traumatised I no longer want to travel by plane.
"At that time the #lionair Flight JT 353 flight, was supposed to leave at 10.30 a.m. had to be delayed until 12.30 p.m.
"And the travel time from Padang to Jakarta should be 1 hour 40 minutes. It became so long, 4 hours.
Due to turbulence, engine shutdown etc." 
Tha caption is referring to the deadly Lion Air crash on October 29, 2018, which AFP has reported on here.
The video in the misleading post has been flipped horizontally from the original footage. 
Below is a screenshot comparison between the video in the misleading post (L) and the original Instagram video (R):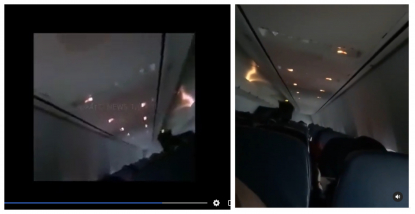 Screenshot comparison between the video in the misleading post (L) and the genuine Instagram video (R)
On October 29, 2018, @marapi_singgalang also posted further details about his video here, telling people not to spread a hoax and to read his posts carefully.
He explained that he had posted the video because the Lion Air crash reminded him of his own terrifying experience aboard another Lion Air flight.
-- Previously misused -- 
But the footage was also misused in 2018 and circulated alongside false claims that it showed the final moments before the Lion Air Flight JT 610 accident. AFP debunked that false claim at the time, here.
David Ditama, who owns the @marapi_singgalang Instagram account, told AFP in 2018 that the video was taken when he was flying Lion Air flight JT 353 from Padang, in West Sumatra province, to Jakarta on December 11, 2017.