Quote in support of Nigeria's Biafra state falsely attributed to Bill Gates
Multiple posts shared thousands of times on Facebook claim that Microsoft founder Bill Gates said Nigeria's Biafra state could become the world's second-largest economy within five years of independence and overtake China as a leader in technology. This is false; the Bill & Melinda Gates Foundation told AFP Fact Check that he did not make the comments.
The claims were published in an article on Nigerian news site Konnect Press and shared more than 1,500 times on Facebook. The headline reads: "Biafra Nation will liberate Africa from slavery – Bill Gates".
It claims Gates said that if "Igbos can be on their own as a nation within five years they will take over from China in terms of technology". The article also claims that the "Biafra nation has the potential to become second in the world economy" and "will liberate Africa from poverty, shame and slavery".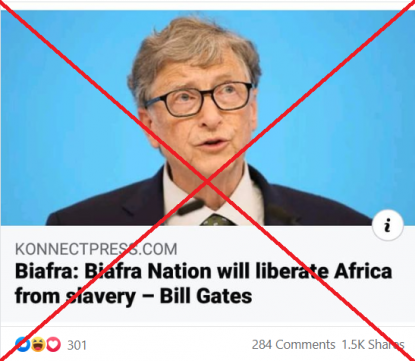 A screenshot taken on September 30, 2020, showing the false post
The article was promptly shared by pro-Biafra Facebook groups (for example here, here and here) claiming that Gates is ready to "partner with Biafra nation for technology development". 
Calls for a separate state of Biafra are a sensitive subject in Nigeria after a unilateral declaration of independence in 1967 sparked a brutal 30-month civil war.
More than one million people died, most of them Igbos, from the effects of conflict and disease.
Despite renewed calls for independence over the years, President Muhammadu Buhari has said the country's unity is non-negotiable.
Bill Gates did not say this
Gates often speaks about Nigeria, where he said his foundation has invested more than $1 billion in the past 20 years on vaccination projects and primary healthcare. But AFP Fact Check found no record of Gates making any of the comments attributed to him. 
Contacted by AFP Fact Check, the Bill & Melinda Gates Foundation denied the claims. "We can confirm that these statements were not made by Bill Gates," a spokesperson said by email.
History of misinformation
Fifty years since the end of the civil war in Nigeria, pro-Biafra groups have resorted to using the names of global figures to further their cause. 
In 2019, separatists claimed French President Emmanuel Macron said Biafra is "the hope of West Africa". The French foreign ministry in Paris told AFP Fact Check at the time that the president made no such comments, either on or off social media.
Pro-Biafra comments have also been falsely attributed to US President Donald Trump and United Nations Secretary-General Antonio Guterres.