These pictures do not feature children and were part of a protest against Trump's immigration policy
A post purporting to show children kept in cages by human traffickers has been shared thousands of times on Facebook. The claim is false; the images come from a campaign in the United States called "No Kids In Cages", protesting against family separation among immigrants. Activists behind the campaign used mannequins as models.
"We need to bring more awareness to these horrific tragedies," reads a Facebook post shared more than 24,000 times since June 8, 2020. "Children are disappearing by the thousands I'm sure into child trafficking, sex Trafficking, Organ Harvesting, Cheap Labor, used for experimental drugs/ treatments..."
Two images included in the post appear to depict children covered with foil blankets and held in steel cages.
The post further claims that the minors are being kept in privately-owned facilities that are untraceable in the US.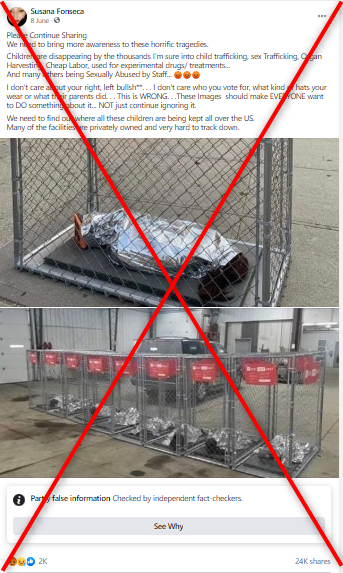 Screenshot of false Facebook post, taken on September 29, 2020
A reverse image search on Google located the two pictures in an article by Forbes entitled Disturbing Pop-Up Art Installations Depict Kids In Cages, which credits the images to a US-based immigration centre known as the Refugee and Immigrant Center for Education and Legal Services (RAICES).
In June 2019 (as reported here and here) RAICES launched a public art activism project across New York City known as the #NoKidsInCages campaign, calling attention to the treatment of immigrant children at the US border.
The campaign, which used sculptures to depict children huddled on the floor of a tiny cage and draped in a foil blanket, urged Americans to pressure legislators to pass the Keep Families Together Act in order to avoid children being separated from their families at the border.
Zero-tolerance policy
On April 6, 2018, US President Donald Trump's administration announced a "zero-tolerance policy" on immigrants aimed at prosecuting people entering the country illegally. The policy led to the forceful separation of children from their parents, with the adults and minors held in separate detention facilities. Criticism followed from lawmakers and human rights groups.
Democratic Senator Jeff Merkley told CNN that he saw children being held in "wire-mesh, chain-linked cages" when he visited a detention center on the South Texas border.
Days after announcing his policy, Trump signed an executive order rescinding forceful family separation, but a 2019 Human Rights Watch report indicated that migrant children were still being separated from their families at the border.
#NoKidsInCages
The #NoKidsInCages campaign emerged from these immigration realities in the US and the artistic works depicting children held in cages were intended to push for better legislation.
The pictures have nothing to do with actual child trafficking as purported in the Facebook post.