Old and unrelated images used in claim about assassination attempt on Nigerian lawyer
A photo of a black sport utility vehicle (SUV) with bullet holes has been shared in news articles and on social media along with claims of an attempted assassination targeting a lawyer linked to a separatist group in Nigeria. This is false; AFP Fact Check found the photo of the damaged vehicle was first posted online at least seven years ago, while another image of shell casings is available for purchase on a stock photo website. 
A post shared nearly 500 times on Facebook and archived here claims that Nigerian authorities attempted to assassinate attorney Richard Okoroafor, a local lawyer representing the Indigenous People of Biafra (IPOB), a proscribed separatist group fighting for an independent state.
"Assassination attempt on Barrister Richard Okoroafor along suleja-bida road in Abuja this afternoon 25/02/2021 as he discovered Elvis Ngozi and 109 Biafrans detained in Alfa commando barracks between Abuja and Niger state," the post's caption reads.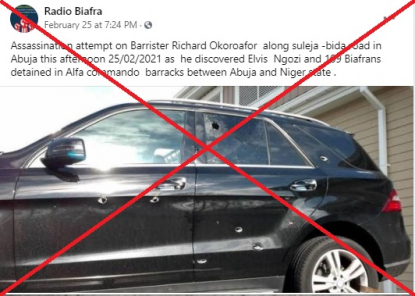 Screenshot of the Facebook post, taken March 2, 2021
Below the caption is a picture of a dark SUV with several bullet holes, outside what looks like a residential house. Local newspapers, including Sun Newspapers, Vanguard and Sahara Reporters, used the same image in their reports about the alleged assassination bid. 
All three newspapers relied solely on a press statement from Nnamdi Kanu, IPOBs fugitive leader. In the statement, Kanu alleged that the "Nigerian Army and police have taken it upon themselves to assassinate IPOB lawyers" in order to keep the separatists from challenging officials in court.
Kanu, a British-Nigerian political activist, and a former London real estate agent, claimed that Okoroafor was attacked because he had discovered an army base where 110 innocent civilians were being held. 
Old pictures linked to Boston bombing
However, the image of the shot-up SUV is unrelated to the claimed hit attempt on Okoroafor. By running multiple reverse image searches, AFP Fact Check found the original photo dates back to 2013.
It shows the aftermath of a shooting in Boston in the United States in April 2013 as police hunted the perpetrators of the fatal bombing that had rocked the city's famed marathon a few days earlier.
Online articles in Today and NBC News feature the same photo, which also appears in a blog post that aggregated news reports of the attack. 
A reverse image search of the second picture featured in the Facebook post led to the Adobe Stock images website. The photo of shell casings on the ground was uploaded here for purchase in September 2019.
This image shared in the Facebook post has been online since 2019
Army denies assassination attempt 
Mohammed Yerima, the spokesperson for the Nigerian Army, told AFP by phone that there is "no truth to the claim and precious time should not be wasted on it". 
"[The] Army doesn't attack individuals," Yerima said. 
Repeated attempts to get comments from both the police and Okoroafor were unsuccessful. Their responses will be included should they reply.
Kanu and the IPOB are known for spreading misinformation online, especially on Facebook, which recently removed Kanu's account for "repeated violation of its community rules".
Since his removal from Facebook, Kanu continues to use other means to communicate, including an online radio platform called Radio Biafra. 
AFP Fact Check has previously debunked other claims by Kanu and his supporters here, here and here.