Video shows 2018 protest, not Brazilian World Cup squad's bus
Social media users are claiming a video shows people throwing objects at a bus carrying Brazil's national football team after the 2022 World Cup, where it was eliminated in a quarter-final match against Croatia. This is false; reverse image searches show the clip is from 2018, and Brazilian authorities told AFP it shows protesters attacking a vehicle they erroneously thought was carrying a former president.
"Brazilian national team being received back home upon arrival from Qatar," says text over a version of the video shared December 12, 2022.
The same clip was shared in various languages and countries on platforms such as TikTok, Facebook, Twitter and YouTube, with several iterations viewed tens of thousands of times.
Headlined by stars including Paris Saint-Germain's Neymar and Real Madrid's Vinicius Junior, Brazil entered the 2022 World Cup in Qatar among the favorites to take home the trophy, only to fall short December 9 to Croatia. Argentina went on to win the tournament, toppling Croatia in the semi-finals before beating France in a final decided by penalty kicks.
While Brazil's exit devastated the team's players and fans back home, the video circulating on social media does not show the squad's return.
Reverse image searches revealed the video was uploaded in March 2018. Posts and articles say it shows protesters lobbing projectiles at a green Catarinense bus thought to be carrying Luiz Inacio Lula da Silva, who served as Brazil's president from 2003 to 2010 before he was jailed on corruption charges. Lula was reelected in October 2022.
Screenshot from TikTok taken December 21, 2022
Screenshot from a 2018 YouTube video taken December 21, 2022
Screenshot from TikTok taken December 21, 2022
Screenshot from a 2018 YouTube video taken December 21, 2022
But the vehicle was not carrying Lula or members of his campaign -- it was a bus that travels from Rio de Janeiro to Foz do Iguacu in Parana, according to a statement the state's branch of the Brazilian Federal Highway Police sent to AFP, citing a police report. The incident took place in the municipality Sao Miguel do Iguacu on March 26, 2018.
"The bus they were in was stoned by people who were there to protest against the presence of the former president Luiz Inacio Lula da Silva," the agency said in the statement, translated into English from Portuguese. "Such stoning broke windows on the left side, and eggs and tomatoes were thrown into the vehicle, putting the lives of the driver and passengers at risk."
Lula's political party, the Workers' Party, also wrote on its website at the time that the bus was occupied by ordinary citizens.
It is unclear how Brazil's football team was transported home after the World Cup. But the squad's social media posts -- and video and photos captured by AFP -- show the players riding a different yellow and green bus while in Qatar.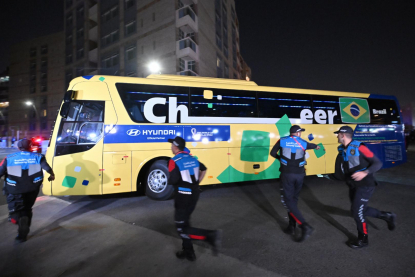 Team Brazil arrive at the Westin Doha Hotel & Spa in Doha on November 19, 2022 ahead of the Qatar 2022 World Cup football tournament ( AFP / NELSON ALMEIDA)
The same clip of protesters attacking the green Catarinense bus spread online alongside similar claims after Brazil lost to Belgium in the 2018 World Cup.
AFP reached out to the Brazilian Football Confederation for comment, but a response was not forthcoming.
AFP has debunked other misinformation about the World Cup here.