The 2012 photo shows a Palestinian girl confronting an Israeli soldier, unrelated to Ukraine conflict
Three photos have been shared thousands of times on Facebook in Tanzania and Kenya alongside a claim that they show a young Ukrainian girl confronting a Russian soldier. But this is false: the images are screenshots from a YouTube video of Palestinian activist Ahed Tamimi challenging an Israeli soldier in the occupied West Bank in 2012.
One of the posts, which features three images of the girl and soldier taken from different angles, was published on Facebook on February 27, 2022. It has since been shared more than 1,500 times.
"An 8 year Ukrainian girl confronts a Russian soldier telling him to go back to his country. This is courageous (sic)," partly reads the post.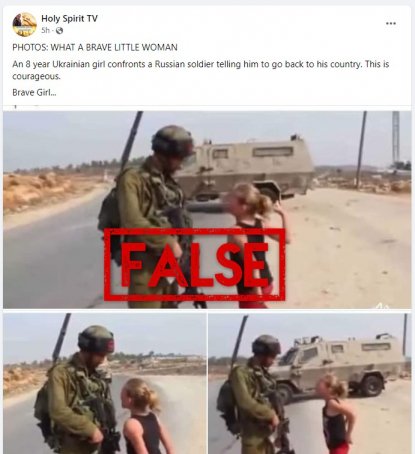 Screenshot of the false Facebook post, taken on February 28, 2022
Other posts containing the same images showing the altercation were published on Facebook and Twitter in Spanish and Portuguese.
The claim surfaced after Russia launched a full-scale military invasion into Ukraine on February 24, 2022, as AFP reported.
The escalating conflict has given rise to a wave of online disinformation. AFP Fact Check has debunked a number of false claims, including here, here and here.
West Bank photos
The images do not show a Ukrainian girl in a stand-off with an armed Russian soldier.
A reverse Image search found that the pictures have been shared in a false context.
They are screenshots from a video posted on YouTube on December 24, 2012, showing Tamimi, then aged 11, shouting at an Israeli soldier in the West Bank.
Screenshot showing a section of the original video, taken on March 28, 2022
The scene of Tamimi raising her fist at the soldier was widely published and led to her being received by former Turkish prime minister Recep Tayyip Erdogan in 2012.
The image has been repeatedly used by major news outlets, including here, here and here.
Israel and Palestine have been fighting over control of the Gaza Strip and West Bank for over five decades.
Tamimi has become a symbol of Palestinian resistance.
Ahed Tamimi, seen here in 2019, has become a symbol of Palestinian resistance
In 2018, she spent eight months in prison for hitting and kicking two Israeli soldiers in front of her house in the West Bank.
Russian invasion
Russia has become an international pariah as its forces do battle on the streets of Ukraine's cities, facing a barrage of sanctions including a ban from Western airspace and key financial networks.
Fighting on Ukrainian soil has claimed dozens of civilian lives and forced hundreds and thousands of people to flee west.
The Kremlin has so far brushed off international sanctions as a sign of Western impotence.
Russian President Vladimir Putin has said his actions are justified because it is defending Moscow-backed separatists in eastern Ukraine.
The rebels have been fighting Ukrainian government forces for eight years in a conflict that has killed more than 14,000 people.
March 4, 2022 This article has been updated to add metadata.