This video shows a volcanic eruption in Iceland and not the Democratic Republic of the Congo
A video showing lava flowing from a volcano has been viewed thousands of times on social media posts with a claim that it shows the recent eruption of Mount Nyiragongo in the Democratic Republic of the Congo. The claim is false: the footage shows the eruption of Iceland's Fagradalsfjall mountain in March, captured by two photographers and posted on Instagram weeks before Mount Nyiragongo exploded into life in DR Congo.
In Kenya, a former member of parliament shared a clip of the volcano erupting with the caption: "Mount Nyiragongo- a volcano in Goma in the Democratic Republic of Congo, eruption".
The video, viewed more than 20,000 times, shows lava spilling down the side of a blackened mountain.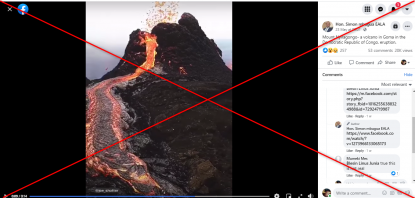 A screenshot of false Facebook post, taken on June 4, 2021
In Uganda the same video was shared in this Facebook post with the caption: "Volcano erupts in Goma, Congo triggering panic: Mount Nyiragongo in eastern Democratic Republic of Congo, one of the world's most active volcanoes, erupted on Saturday, sending panicked residents of the nearby city of Goma fleeing, although a volcanologist said the city did not appear to be in danger".
The video was viewed more than 800 times.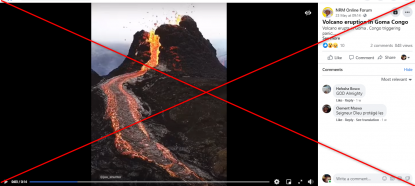 A screenshot of false Facebook post, taken on June 4, 2021
The same claim was shared on Facebook (here and here) as well as on YouTube.
But the claim is false.
A reverse image search on Yandex located the same clip on an Instagram account belonging to a photographer named Joe Mattos-Hall, whose account handle is @joe_shutter – the same name that appears at bottom of the footage in the misleading posts.
In Mattos-Hall's Instagram video, published on March 22, 2021, he said the volcano in the video had erupted in Iceland and tagged Sorelle Amore, also a photographer, as the person who helped record the audio.
AFP Fact Check contacted Amore, whose business and finance partner, Leon Hill, responded and confirmed where the video was shot.
"Yes, this video was taken in Iceland by our friend Joe Mattos-Hall (@joe_shutter on Instagram). It was shot at the Fagradalsfjall/Geldingadalir volcano in Iceland, not in Congo. Joe captured the video by drone, and Sorelle captured the audio," Hill told AFP Fact Check.
Amore shared other recordings of the volcano here.
In March, Iceland's Fagradalsfjall volcano erupted for the first time in about 900 years, an event reported here, here and here.
Meanwhile, DR Congo's Mount Nyiragongo volcano erupted this May claiming dozens of lives, displacing thousands and destroying the homes of about 20,000 people.
AFP Fact Check debunked a previous claim about Nyiragongo's latest eruption here.