Posts falsely claim photo of assault survivor shows woman robbed by George Floyd
Facebook posts show a photo of an injured woman alongside the claim that she was kidnapped and beaten by George Floyd and several accomplices. This is false; the image shows an American student who posted online about being sexually assaulted in Spain.
"Let's make the real George Floyed famous," one Facebook user wrote in a June 11, 2020 post featuring a photo of a young woman whose face is covered in bruises and blood. 
The post claims that the woman's name is Aracely Henriquez, and that she was attacked by Floyd and five accomplices who were looking for drugs and money in her home.
Screenshot of a Facebook post taken on June 15, 2020
The same claim is made in posts here, here and here.
Screenshot of a Facebook post taken on June 15, 2020
However, the woman in the photo is not named Aracely Henriquez and she was not attacked by Floyd, a black man who was killed by Minneapolis police on May 25, sparking widespread protests against racism and police brutality.
The photo was originally published on Facebook on December 19, 2018, by Andrea Sicignano, an American woman who was studying in Madrid. She wrote that she was sexually assaulted by a stranger after losing her way at the end of a night out. The original post was shared 45,000 times.
The photo and parts of her testimony were subsequently reported in English in the online version of El Pais, a national newspaper in Spain.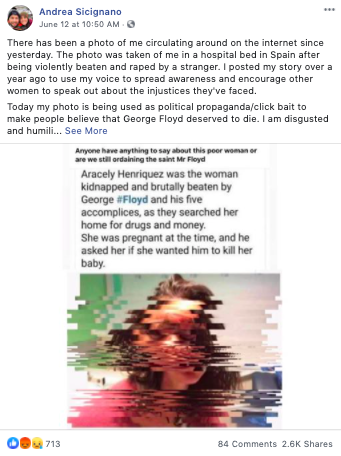 Screenshot of a Facebook post taken on June 15, 2020
When Sicignano became aware that her photo was being used to create a false story involving Floyd, she denounced the false claim in a Facebook post on June 12, 2020. 
"Today my photo is being used as a political propaganda/click bait to make people believe that George Floyd deserved to die," she wrote. "I am disgusted and humiliated, not for myself, but for my country."
As of June 16, the clarification post had been shared 3,000 times, while posts making the false claim had been shared tens of thousands of times.
According to Texas court records, Floyd was charged with nine different offences between 1997 and 2007, including possession of narcotics and theft.
The false post seems to refer to Floyd's conviction for aggravated robbery with a deadly weapon.
According to a court document, the charge stemmed from an August 9, 2007 incident in which he entered a woman's home, pointing a gun at her stomach and searching the home for drugs and money with accomplices.
Court documents identify the woman who was robbed as Aracely Henriquez, and say she was struck with a pistol by one of Floyd's accomplices, but do not give any indication that she was pregnant at the time, as the Facebook posts claim.
He pleaded guilty and was sentenced to five years in prison.
Screenshot of a Harris County court document taken on June 16, 2020
AFP Fact Check has debunked more than 30 examples of false or misleading information about Floyd and the protests that followed his death, available here.