This photo shows the Sart Canal bridge in Belgium, not the Kafubu River in Zambia
An image shared on Facebook showing a raised canal built across a traffic intersection has been shared on Facebook with the claim that the waterway is the Kafubu River in Zambia. However, this is false; the aerial picture actually shows a canal bridge in Belgium.
This Facebook post published on May 24, 2021, includes the image which shows a working canal spanning a large traffic intersection, surrounded by green fields.
"Just Incase you've never been to Ndola Copperbelt this is an aerial Photo of Kafubu River ! Photo credit : Evans Kabesha," reads the post's caption.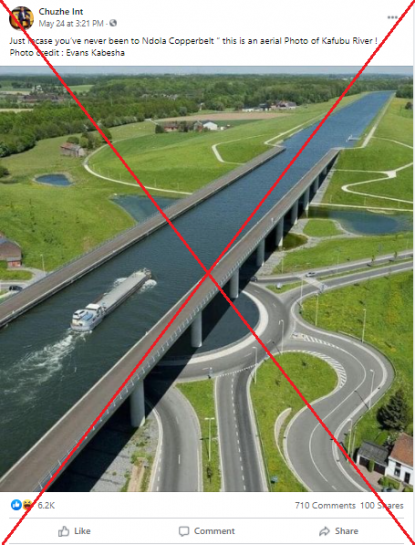 A screenshot of the false Facebook post, taken on May 28, 2021
However, AFP Fact Check performed a reverse image search and traced the picture to Belgium, and not Zambia, as the post claims.
Sart Canal Bridge
The picture is of the Sart Canal Bridge in Belgium, located close to the town of La Louvière, about 50 kilometres from the capital Brussels. 
Construction on the bridge, which cost 29 million euros ($35 million), started in 1998 and finished in 2002.
Kafubu River
The Kafubu River is in Zambia's second-largest city of Ndola, in the Copperbelt province. However, it does not have a canal bridge that looks even remotely like the Sart in Belgium.
A screenshot of the Kafubu River on Google Maps, taken on May 28, 2021
In this article published on July 19, 2020, China Nonferrous Metal Mining Company announced they had embarked on the construction of a bridge across Kafubu stream in Kalulushi's District in Zambia. 
The local authority was quoted as saying the Chinese company was responding to a "request that was made by the community to construct a bridge on Kafubu River".