This photo of Biden was taken before he became president and the boy pictured is not George Floyd's son
An image of US President Joe Biden kneeling in front of a boy has resurfaced on social media alongside the claim that the child is the son of George Floyd, a Black man who died in police custody on May 25, 2020, in Minneapolis, Minnesota. The photo's resurgence coincides with the trial of Derek Chauvin, the police officer charged with Floyd's death. But the claim is false; the photo was taken during Biden's presidential campaign, and the boy pictured is not Floyd's son.
"U.S. President Joe Biden went down on his kneel to beg George Floyd's son for forgiveness. The same kneeling position that killed Floyd (sic)," part of one post's caption reads. 
 It has been shared nearly 540 times, including in Nigeria, since it was published on April 12, 2021.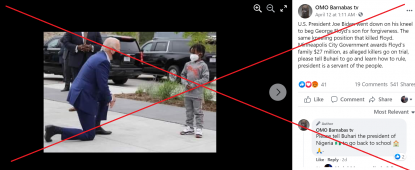 Screenshot of the Facebook post, taken April 14, 2021
"Please tell Buhari to go and learn how to rule, president is a servant of the people (sic)," the post concludes, in an apparent stab at Nigerian President Muhammadu Buhari.
Facebook posts featuring the same photo with similar claims have been shared in Nigeria (here, here, and here), Kenya (here), Ethiopia (here), South Africa (here), Uganda (here and here), and Canada.
The death of 46-year-old Floyd sparked nationwide protests in the United States as part of the Black Lives Matter movement. Floyd died when Chauvin, a white police officer, kneeled on his neck for over nine minutes.
Chauvin has been charged with murder and manslaughter for his role in Floyd's death, which a bystander captured on video. 
The high-profile trial opened in Minneapolis on March 29, 2021, and is being covered by AFP.
AFP Fact Check previously debunked a similar claim featuring a photo of the same scene with Biden and the child, taken from a different angle. It falsely alleged that Biden kneeled to apologise to Floyd's daughter.
As Black Lives Matter rallies spread to cities across the United States, the act of bending a knee became a symbol of protest — a gesture popularised by American football player Colin Kaepernick, who kneeled during the national anthem to denounce police brutality against Black people in 2016.
Photo of clothing shop owner's son
The child in the misleading posts is neither the son nor daughter of Floyd. The photo was taken outside a clothing store called "Three Thirteen" in Detroit, Michigan. 
By running a reverse image search, AFP Fact Check found several photos from Biden's visit to the clothing shop in September 2020, including one taken by AFP photographer Jim Watson.
Biden kneels in front of C.J. Brown (R), the owner's son, on September 9, 2020. (Photo by Jim WATSON / AFP)
"Democratic Presidential Candidate Joe Biden speaks [to] C.J. Brown (R), the owner's son, as he shops for his grandkids at the Three Thirteen store," reads the photo's caption.
Another similar image is available on international photo agency Getty Images, taken by photographer Chip Somodevilla on September 9, 2020. 
Biden also posted a different photo of him kneeling in front of C.J. Brown, both in the same outfits, on his official Instagram page on September 15, 2020.