Hoax posts falsely claim Ethiopian prime minister is either critically ill or dead
Facebook posts shared hundreds of times claim that Ethiopian Prime Minister Abiy Ahmed is either dead or in critical condition and receiving care in Europe. These claims are false; Abiy's office rejected the "fake" rumours, which included at least one doctored image of a man in a hospital bed.
"Breaking News we have recantly heard dr.abiy ahmed ali died in 44 year (sic)," reads the caption on a Facebook post shared hundreds of times from an account called "ETHIO news".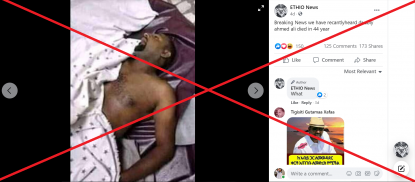 Screenshot of the false Facebook post, taken on January 29, 2021
Published on January, 25, 2021, the post includes an image of a man partially covered by a sheet and with eyes closed. The source of the image was undetermined.
The pro-Oromo page that published the post has repeatedly promoted content in support of Jawar Mohammed, a rival to Prime Minister Abiy Ahmed and the founder of the opposition Oromia Media Network (OMN). Jawar was arrested in July 2020, soon after the assassination of Oromo singer and activist Hachalu Hundessa.
Several posts also claimed Abiy was evacuated to either Italy or Germany for medical treatment.
"DEVELOPING STORY: Rumors from Addis Ababa, Ethiopia indicated the Prime Minister of Ethiopia, Abiy Ahmed, was very sick and he was flown into Germany for an emergency medical treatment (sic)," reads the caption on this Facebook post.
It includes an old image, used in a BBC article published in 2019 and shows an ambulance under police escort.  
On Twitter, some claimed Abiy was "rushed" to Italy for a "medical emergency" following suspicions he was poisoned, possibly by one of his guards. The tweets included the same image of man resembling Abiy hooked up to machines in a hospital bed.
Screenshot of the false Twitter post, taken on January 28, 2021
AFP Fact Check contacted the Italian and German embassies in Ethiopia to determine whether Abiy had been evacuated to either country for medical treatment. This fact check will be updated with their respective comments, but in the meantime a general search online revealed no mention of the claims in any mainstream media.
Abiy's office, however, posted a message on  Facebook on January, 24, 2021, addressing the rumors. 
"We ask members of the public to be vigilant about fake news circulating about Prime Minister Abiy Ahmed's well-being on social media," read the post.
The claims targeting Abiy come a month after Ethiopia announced it had completed a brief but intense military operation in Tigray, located in the country's northern region, where hundreds of people were killed and thousands fled the fighting that affected neighbouring states.
Doctored image 
One of the images used to claim Abiy was in poor health has been altered. AFP Fact Check traced the original version by running a reverse image search and found that it first appeared on a GoFundMe page, with a different man lying in the hospital bed.
According to the GoFundMe page, he was Bidhan Thapa, who died on July 10, 2017. The goal of the fundraiser was to repatriate Thapa's body from the US home to Nepal. 
Screenshot of Thapa's 2017 GoFundMe page
AFP Fact Check identified key features visible in both the original and doctored images, evidence that Thapa's face was replaced with Abiy's.
A comparison between the original image on GoFundMe (L) and the doctored version with Abiy's face
Abiy's absence from public fuelled rumors
Abiy did not appear in public for several weeks following December 22, 2020, when Ethiopia's cabinet endorsed "the establishment of a stock market, a regulation providing for an insurance mechanism for bank deposits and amended the defense forces proclamation with a view to strengthen the Ethiopian National Defence Force (ENDF)".
Also on December 22, 2020, Abiy tweeted that he had a "good call" with Kristalina Georgieva, the managing director of the International Monetary Fund. The pair had discussed measures to bridge the wealth gap, fight climate change and improve "global cooperation for economic recovery from Covid-19".
Had a good call earlier today with @KGeorgieva on measures to close the wealth gap; working together on climate change through the #GreenLegacy initiative and global cooperation for economic recovery from COVID19.

— Abiy Ahmed Ali ?? (@AbiyAhmedAli) December 22, 2020
The public did not hear from Abiy again until January 28, 2021, when he posted images on Facebook (shared more than 13,000 times) of his official visit to the Prosthetics Orthotics Center (POC) in the capital Addis Ababa. The images were also tweeted here. 
AFP Fact Check called the POC and they confirmed that the images were taken during Abiy's visit on January 28, 2021.
Abiy also appeared publicly on January 30, 2021, when he inspected a wheat plantation in the Oromia region. He shared photographs of his visit on Facebook and lauded the efforts made by farmers aiming to plant 300,000 hectares of the crop. 
AFP Fact Check has previously debunked posts alleging the deaths of other African leaders, including Nigerian President Muhammadu Buhari (here and here).