False claim circulates in South Africa linking AstraZeneca vaccine to China
A Facebook post shared by a widely followed account in the name of a South African politician claims that pharmaceutical company AstraZeneca - whose Covid-19 vaccines are set to be rolled out in the country - is owned by a rich Chinese man. The claim is false; AstraZeneca is a listed British-Swedish company with its headquarters in England. The firm's chief executive is French and its major shareholders are investment firms based in Western countries. The expected vaccines are also being manufactured in India, not China.
The account in the name of politician Vytjie Mentor shared the post to her more than 95,000 followers on January 9, 2021. It has since been reshared hundreds of times.
"Astra Zeneca is owned by a RICHEST CHINESE that stays in HONG KONG and has TIES to the CHINESE GOVERNMENT," reads the caption.
It claims that the vaccine is not produced in India and that South Africa's president Ramaphosa and health minister Zweli Mkhize "are trying to hide the Chinese link of the unsafe vaccine".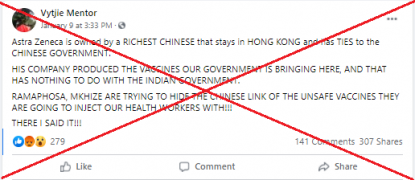 A screenshot of the misleading Facebook post taken on January 11, 2021
The post feeds into similar narratives about the quality of vaccines produced in China, as previously debunked by AFP Fact Check.
This false claim likely stems from a partnership AstraZeneca has with a Chinese drugmaker, Shenzhen Kangtai Biological Products, which is owned by Du Weimin, one of the richest men in China. 
His company will be the exclusive manufacturer in mainland China for the vaccine made by AstraZeneca, with plans to work together in other countries. 
An ex-member of parliament with South Africa's country's leading party, the African National Congress (ANC), Mentor joined the African Christian Democratic Party (ACDP) in March 2019. She is currently the Western Cape chairperson for new party ActionSA, led by former Johannesburg mayor Herman Mashaba.
As is the case with numerous politicians' pages in South Africa, the widely-followed Facebook page in her name has not been verified with a blue tick. Multiple attempts to confirm with Mentor that the page indeed belongs to her have gone unanswered.
This is not the first time AFP Fact Check has debunked claims made by this Facebook account: In November 2019, it shared false claims about South Africa's sex education curriculum for primary school children.
This account has since become a platform for Covid-19 misinformation, including promoting the unproven efficacy of drugs like Ivermectin and hydroxychloroquine.
As reported by AFP, South Africa is expecting 1.5 million doses of AstraZeneca's Covid-19 vaccine from India in January and February 2021 - the first shipment of 20 million secured doses to be mainly delivered in the first half of the year.
Despite the South African government starting to outline its Covid-19 inoculation plans, the country has not yet received a single vaccine dose and is facing wide criticism over unrealistic targets and a lack of clarity.
In his weekly newsletter on January 25, 2021, Ramaphosa said that the vaccine was being produced in India.
"Our country will soon receive its first consignment of COVID-19 vaccines from the Serum Institute in India, which is the world's largest vaccine producer," he wrote. 
The Serum Institute of India (SII), the world's biggest vaccine maker by volume, is producing millions of doses of the Covishield coronavirus vaccine developed by AstraZeneca and Oxford University.
Ramaphosa also cautioned against false information surrounding the vaccine rollout. 
"We have already embarked on an extensive communications campaign to educate the population about the COVID-19 vaccine, and to challenge many of the misconceptions in circulation," he wrote. 
"We all need to work together to build confidence in the vaccine, to demonstrate its effectiveness and its safety – and to emphasise its vital importance in overcoming this deadly disease."
AstraZeneca's ownership 
The misleading post says AstraZeneca is owned by a Chinese man; however, the listed company is actually British and Swedish.
While China is AstraZeneca's second-largest market, the company is not Chinese nor is it owned by a Chinese citizen.
Its chief executive officer and executive director is Pascal Soriot, who is French, and its major shareholders do not include any Chinese citizen but rather an assortment of investment firms based in Western countries. 
The global biopharmaceutical company is headquartered in Cambridge, UK, and operates in more than 100 countries according to Eveline Hyde, a spokeswoman for the company.
"AstraZeneca's strategic approach for AZD1222 (Covid-19 vaccine) has focused on partnering with scientists, governments, multilateral organisations, and manufacturers to establish agreements for the development and supply of the vaccine and we are committed to enabling broad and equitable access," Hyde told AFP via email. 
"The partnership with SII [Serum Institute of India] is a sub-licensing agreement of AZD1222 for SII to manufacture and supply up to one billion doses to low-and middle-income countries."
The misleading post also claims that the vaccine is unsafe; however, the AstraZeneca drug was found to be "safe and effective", according to a study published by The Lancet medical journal on December 8, 2020.
One of the of the 23,754 volunteers who participated in the trials experienced "possibly-related severe side effects". 
According to the study, this was a case of a rare neurological condition, transverse myelitis, that forced the temporary suspension of trials.
The first 1.5-million AstraZeneca vaccines manufactured in India are expected in South Africa in January and February. (AFP / Indranil Mukherjee)
As reported by AFP, China is also offering its own vaccine -- it has four vaccines in the final stages of development that it is testing in a number of countries, including Brazil, the United Arab Emirates, and Turkey.
Millions in China have already received a jab. However, unlike vaccines being developed by Moderna, AstraZeneca, and Johnson & Johnson, little information has been published about the safety or efficacy of Chinese vaccines.
India exported its first batch of locally produced AstraZeneca coronavirus shots in January 2021, with the Maldives and Bhutan as the first recipients of its coronavirus vaccine.
The Serum Institute of India plans to supply 200 million doses of the AstraZeneca vaccine to Covax, a World Health Organization-backed effort to procure and distribute inoculations to poor countries.
Smoke rises after a fire broke out at India's Serum Institute in Pune on January 21, 2021 (AFP)
Five people died as a fire tore through the Serum Institute of India on January 21, 2021, but officials said the production of the coronavirus vaccine was not affected.
As of January 25, 2021, South Africa had recorded 1,417,537 cases of Covid-19 and 41,117 deaths.