Facebook has not sold WhatsApp to the Nigerian government
Posts circulating widely on Facebook in Nigeria claim that the Nigerian government has purchased the instant messaging service WhatsApp for 3 billion naira ($7.3 million) and plans to use it to spy on citizens. This is false; Facebook, WhatsApp's parent company, told AFP Fact Check that the Nigerian government has not purchased the messaging platform.
A post shared nearly 600 times on Facebook here and here claims that the Nigerian government purchased WhatsApp to spy on Nigerian citizens. The post originated on a Facebook account that supports the secession of Biafra from Nigeria -- a movement led by Nnamdi Kanu.
"You will be tracked! Leave WhatsApp now! Go to Signal app now!" reads an excerpt from the post. Signal is an end-to-end encrypted instant messaging app.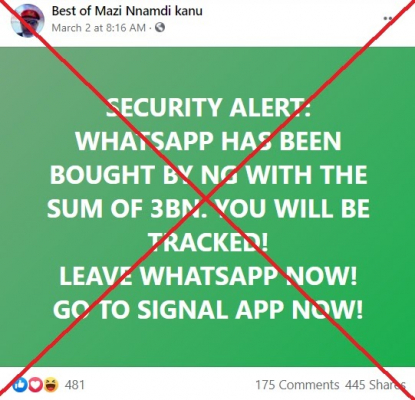 A screenshot of the false post, taken on March 10, 2021
Facebook says rumours are false
WhatsApp was founded by Brian Acton and Jan Koum, former employees of Yahoo, in 2009. The mobile application initially launched on iPhones, and was then developed for Blackberry and Android devices. By 2013, WhatsApp said it had about 200 million active users and was valued at $1.5 billion. 
In 2014, Facebook bought WhatsApp for $22 billion, as AFP reported.
Given that WhatsApp was acquired for $22 billion and that Facebook is currently worth more than $750 billion, it is unlikely that Facebook would sell WhatsApp to anyone for only $7.3 million dollars. However, AFP Fact Check contacted Facebook to confirm that the claims circulating on Facebook are false. 
Facebook confirmed that Nigeria has not bought WhatsApp.
"All rumours are simply false," the company told AFP Fact Check.
Kanu and his followers have repeatedly spread misinformation on Facebook about the Nigerian government and other key global figures. AFP Fact Check has previously debunked some of those claims here, here and here.