Misleading Facebook posts claim woman died from Pfizer-BioNTech vaccine in Japan
Facebook posts circulating in the Philippines share a news report about a "victim" of Pfizer-BioNTech's Covid-19 vaccine who died after receiving the jab in Japan. However, the posts are misleading; they exclude the part of the news report that explains health authorities found no link between the woman's death and her vaccination.
"A 60-year-old woman in Japan died of brain hemorrhage three days after being injected with a vaccine made by Pfizer against the coronavirus disease," states the Tagalog-language text in the screenshot shared on Facebook on March 3, 2021. 
"Another Pfizer victim in Japan," the caption of the screenshot reads.
The post circulated online as the Philippines kicked off its Covid-19 vaccination drive on March 1, 2021. 
The country has struggled with its vaccine programmes in recent years. A botched rollout of the Dengvaxia dengue vaccine in 2016 led to unfounded claims that dozens of children had died from the jab, AFP reported. 
Recent surveys have shown vaccine confidence remains low, with almost half of the population reportedly unwilling to be vaccinated against Covid-19.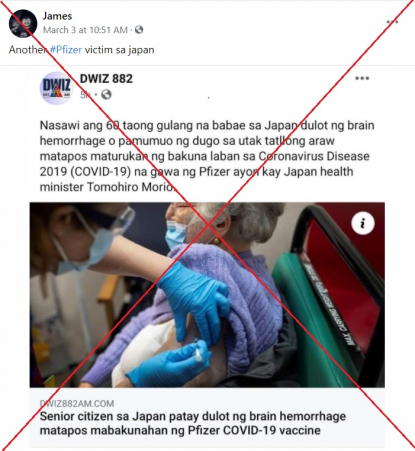 A screenshot of the misleading post, taken on March 10, 2021
An identical screenshot was also shared alongside a similar claim in Facebook posts here, here, here and here. 
However, these posts omit important context.
A keyword search on Google found the screenshot was taken from this report published on March 2, 2021, on the website of local radio station DWIZ 882. 
The circulating screenshots, however, excluded the portion of the report that clarified experts had not established a causal link between vaccination and death.
"(A Japanese health official) clarified that the vaccine was not linked to the brain hemorrhage of the senior citizen who died, because this is a common cause of death for people within the 40 to 60 age group," the excluded portion reads.
The official report released by the Japanese health ministry also does not implicate Pfizer-BioNTech's Covid-19 vaccine in the death.  
The report concluded that it was "impossible to evaluate the causal relationship with the vaccine" in the death of the woman, who was in her sixties. The report does not give her exact age.
"Submucosal hemorrhage, which is suspected to be the cause of death, is relatively likely to occur in people in their 40s and 60s." 
"So far, it seems that there is no association between submucosal bleeding and the new Covid-19 vaccine in overseas vaccination cases."
Social media posts misrepresenting links between deaths and vaccinations have circulated online in 2021 as countries began inoculating their citizens against Covid-19.
AFP Fact Check has previously debunked misleading claims linking deaths to vaccination programs in Germany and Norway.