Footage shows 2020 Beirut blast, not earthquake in Turkey
Social media users across platforms and countries are claiming a video shows a nuclear power plant exploding after an earthquake devastated Turkey and Syria on February 6, 2023. This is false; the footage shows a 2020 explosion in Beirut, Lebanon.
"BREAKING: Nuclear plant explode due to #earthquake in #Turkey," says a February 6, 2023 tweet sharing the video, which received more than 370,000 views.
The same visual appeared alongside similar captions on Twitter, TikTok and other platforms.
Screenshot from Twitter taken February 6, 2023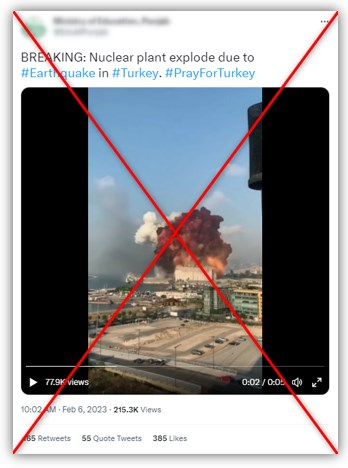 Screenshot from Twitter taken February 6, 2023
A 7.8-magnitude earthquake struck southeast Turkey at approximately 04:17 am (0117 GMT), the biggest disaster to hit the country since 1939. More than 5,000 people have died in Turkey and neighboring Syria, and tens of thousands more are estimated to have been injured.
But the video circulating online does not show the disaster, as one user who shared it later acknowledged.
"Update : This footage is from Beirut 4th august 2020 explosion," said "CBKNEWS," the Twitter account that shared the February 6 post, in a follow-up tweet.
The account is verified because it pays for Twitter's subscription service, according to its profile.
A reverse image search confirms the clip matches footage of the blast that rocked Beirut, Lebanon's capital and largest city, on August 4, 2020. News organizations such as Sky News, CBS News and The Guardian published the same footage.
The explosion destroyed Beirut's port and wiped out neighborhoods, killing more than 200 people and wounding 6,500 others.
The blast was not nuclear, however. It was triggered by a fire in a warehouse that detonated hundreds of tons of highly explosive ammonium nitrate, a material in fertilizers, that had been stored for years.
AFP has previously debunked other examples of footage from Beirut being misrepresented, as well as posts sharing images unrelated to the recent earthquake in Turkey.