Old images of rescue dogs resurface after earthquake in Turkey
Social media users are sharing images of rescue dogs that were supposedly taken after an earthquake devastated Turkey and Syria on February 6, 2023. This is false; the pictures appeared on stock photo platforms as early as 2018.
"Heartbreaking Photo of The Day #earthquake #Turkey #PrayForTurkey," says a February 6, 2023 tweet with an image of a dog lying next to someone who appears to be buried under rubble.
The tweet accumulated more than 1.5 million views. Other posts sharing similar or identical images of dogs among ruins gained traction across the world in multiple languages.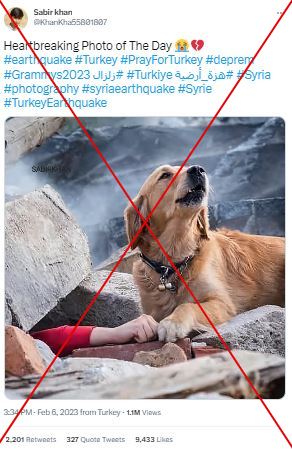 Screenshot of a tweet taken February 6, 2023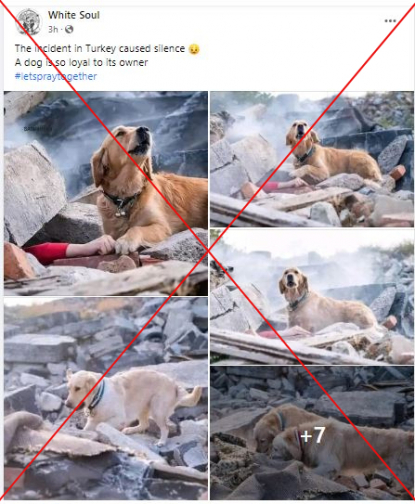 Screenshot of a Facebook post taken February 7, 2023
The claims come after a 7.8-magnitude earthquake struck southeast Turkey at approximately 0117 GMT on February 6, the country's biggest disaster since 1939. More than 6,200 people have died in Turkey and neighboring Syria, and tens of thousands more are estimated to have been injured.
But the dog images predate the quake -- they have been online since at least 2018, as AFP has previously reported.
A reverse image search revealed the pictures were part of a series that Czech photographer Jaroslav Noska uploaded to the platform Alamy in October 2018.
Screenshot taken from stock image website Alamy on February 7, 2023
The captions say: "dog looking for injured people in ruins after earthquake." They do not specify when and where the images were taken.
AFP contacted Noska for more information about the photos, but a response was not forthcoming.
"As far as I can tell, both images have been uploaded by the same contributor in October 2018," an Alamy representative told AFP in a February 7 email.
The same pictures were also published on websites such as Bigstock and Shutterstock.
AFP has fact-checked other out-of-context photos and videos shared online after the 2023 earthquake here and here.