Old video of 2020 Beirut blast circulates in false posts about gas explosion in China
A video has been viewed tens of thousands of times on Facebook, Twitter, and YouTube alongside a claim it shows a gas explosion in China's northwestern Hubei province in June 2021. The claim is false: the video actually shows an explosion at a port in Lebanon's capital Beirut in August 2020.
The video was published here on June 14, 2021 on Twitter. It has been viewed more than 31,000 times.
The video appears to show explosions with mushroom-like clouds.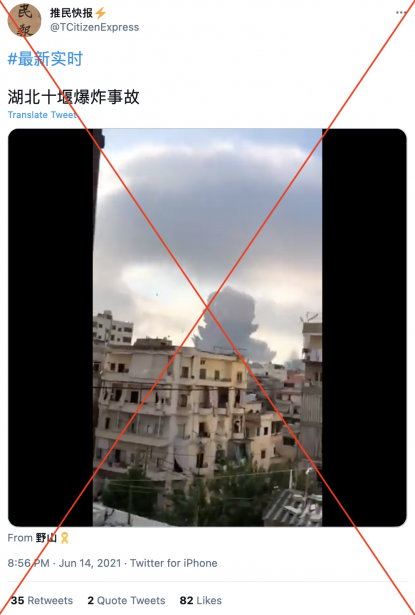 A screenshot, taken on June 16, 2021, of the misleading post.
The post's Chinese-language caption reads: "#LatestRealTimeNews Explosion in Shiyan, Hubei".
Shiyan is a city in China's northwestern Hubei province.
A gas pipe exploded in a residential compound in Shiyan on June 13, 2021, killing at least 12 people and injuring almost 140, AFP reported here. 
The same video was shared alongside the same claim on Facebook here; on Twitter here, and on YouTube here.
The claim, however, is false. 
A reverse image search on Google found the same video published here on Twitter on August 4, 2020.
The post's caption translates in English as: "What are those crackers?! Chemicals or weapons?! Something unreasonable and a huge explosion. #Lebanon".
A screenshot, taken on June 18, 2021, of the Twitter video.
Two massive explosions blasted through Beirut's port on August 4, 2020, killing at least 73 people and injuring hundreds more, shaking distant buildings and spreading terror and mayhem throughout the Lebanese city, AFP reported here.
Below is a screenshot comparison of the video in the misleading post (L) and the 2020 video in the Twitter post (R):
A screenshot comparison of the misleading video and the video on Twitter.
The same video was also published in various media reports about the explosions in Beirut including here by Hong Kong-based newspaper South China Morning Post; here by American newspaper USA Today; and here by US news agency Associated Press.