Old video resurfaces in misleading posts about Gaza conflict in 2021
A video has been viewed thousands of times in multiple Instagram, Facebook and Twitter posts that claim it shows an Israeli soldier arresting a Palestinian child in Gaza in June 2021. The video has been shared in a misleading context: it shows an incident in 2015 in a West Bank village, not Gaza.
The video was posted here on Instagram on June 14, 2021. It has been viewed more than 2,000 times.
A screenshot of the misleading post taken on June 17, 2021.
The video's caption states: "An armed Israeli soldier tries to arrest a Palestinian child by sitting on him and suffocating him without any consideration to the child's crying and pain from his broken hand. The child's family succeeded in ridding him from the soldier later."
The caption includes the hashtags: "#SaveSheikhJarrah"; "#Gaza"; and "#Gazaunderattack".
Sheikh Jarrah is a neighbourhood in Israeli-annexed east Jerusalem that has become a flashpoint for deadly fighting in 2021, AFP reported.
Protests in the neighbourhood against the planned expulsion of Palestinians from houses there spread to the Al-Aqsa mosque compound, sparking a crackdown by Israeli security forces.
An identical video was also shared here and here on Facebook; here on Instagram; and here on Twitter alongside a similar claim.
But the video has been shared in a misleading context.
A reverse image on Google found a longer version of the video published here on YouTube on August 29, 2015.
It is titled: "Nabi Saleh 28/8/2015".
The video in the misleading posts corresponds to the YouTube video from the five-minute nine-second mark onwards.
Below are two screenshot comparisons of the video in the misleading posts (L) and the YouTube video (R):
An AFP photographer captured the same incident in Nabi Saleh on August 28, 2015.
The photo can be viewed here on AFP's website.
The caption reads: "Palestinian Ahed Tamimi (L) fights with other members of her family to free a Palestinian boy (2nd L) who was held by an Israeli soldier (C) during clashes between Israeli security forces and Palestinian protesters on August 28, 2015, in the West Bank village of Nabi Saleh near Ramallah."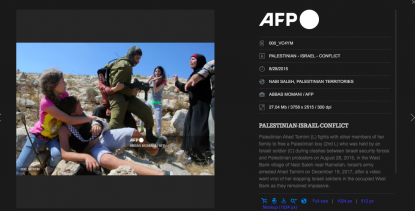 A screenshot of the AFP photo of the same incident in Nabi Saleh.
AFP reported on the incident here on September 1, 2015. The village of Nabi Saleh is situated in the West Bank.