NATO has not released a statement about planning military action against Ethiopia
Facebook posts shared hundreds of times online claim that members of the North Atlantic Treaty Organization (NATO) agreed to take military action against the Ethiopian government over its role in the conflict in the Tigray region. But NATO has dismissed the claim as false and there is no public record of such statements at recent NATO meetings. 
The Facebook post, published in Amharic on June 7, 2021, claimed NATO planned to attack the government of Prime Minister Abiy Ahmed Ali who leads the Prosperity Party. 
"Breaking news. The entire NATO member countries have decided to take military action against the Prosperity Party's government. They have also approved charges brought against government officials related to human rights violations in Ethiopia," reads the translated caption.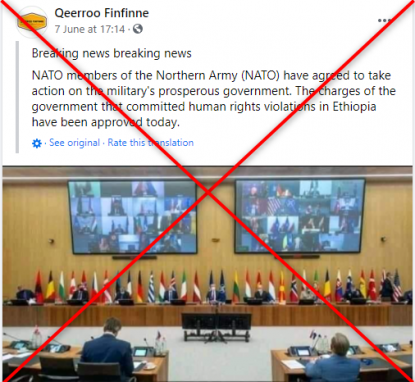 A screenshot of the false Facebook post, taken on June 16, 2021
The same claim -- which was also shared on Facebook here, here and here -- surfaced as Ethiopia prepared to hold elections on June 21, 2021 under the shadow of war and famine in the northern Tigray region, and serious doubts over fairness.
The posts feature two images of what appears to be a high-profile meeting -- one featuring the flags of different countries and another capturing high-ranking government officials.

A screenshot showing the two Facebook posts with similar claims, taken on June 16, 2021
A reverse image search revealed that the image of officials was taken in 2018 during a NATO summit in Brussel -- two years before Abiy sent troops to Tigray to oust the ruling party there.
The photo featuring flags of different countries was taken on June 1, 2021, during a NATO meeting of foreign affairs and defence ministers. According to official records, there is no evidence of any pronouncement made about the situation in Ethiopia at the meetings.
NATO's latest summit was held on June 14, 2021, and AFP Fact Check found no public evidence of Ethiopia being discussed  at that event either.
NATO spokeswoman Rehanna Jones-Boutaleb said the organisation had not addressed the situation in the Horn of Africa at the summit.
"NATO as an organisation has not made any statement with regard to the situation in Ethiopia. All official NATO statements are always available on our website," Jones-Boutaleb told AFP Fact Check on June 16, 2021.
Ethiopia vote
Ethiopia is set to hold twice-delayed elections on June 21, 2021. 
As reported by AFP, voting will not proceed in about one-fifth of the country's 547 constituencies due to unrest and logistical problems.
Those constituencies will mostly vote in September but no ballot is scheduled in Tigray, a region of six million which has seen months of deadly clashes and famine.
Even in areas where the vote is proceeding, some opposition parties are boycotting in protest over the jailing of their leaders, and other concerns over the fairness of the process.
The polls will be closely watched by western allies such as the United States, which has voiced grave concern about the exclusion of such large numbers of voters from the process.