Video of girl reacting to Islamic call to prayer filmed in Dubai, not Qatar World Cup
A video has been viewed thousands of times in Facebook posts that falsely claim it shows an American girl's reaction to the Islamic call to prayer, the Adhan, at a shopping mall in Qatar during the World Cup. The clip was in fact filmed in Dubai a decade before the tournament.
"An American family came to Qatar to watch the World Cup," reads a Bengali-language Facebook post shared on November 26.
"While they were visiting a shopping mall, they heard the Adhan. The child asked her daddy what the sound was."
The video, which has more than 5,800 views, shows a girl looking curiously around a shopping mall as the call to prayer rings out.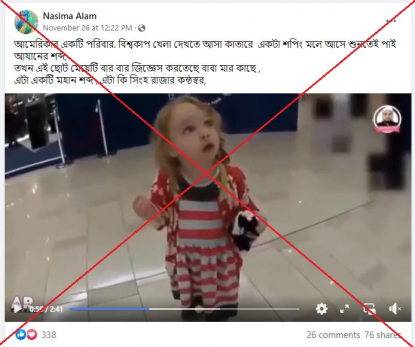 Screenshot of a Facebook post sharing the false claim, taken on December 7, 2022
The Qatar World Cup has prompted a flurry of misinformation with religious elements, including videos falsely shared as football fans converting to Islam, worshippers praying at a stadium and a match interrupted by the Islamic call to prayer at the tournament.
Many Facebook users commented on the video of the girl in a shopping mall saying: "Praise be to God".
The same footage circulated widely in Bengali and Arabic Facebook posts.
However, the video was filmed at a shopping mall in Dubai in October 2012, ten years before the Qatar World Cup.
Dubai Mall
A Google reverse image search and keyword search found the same video posted on YouTube on October 20, 2012.
The video is titled "1st Call to Prayer" and the description reads: "Quick clip of our first trip into the city (Dubai Mall), and the first time hearing the Call to Prayer. Pretty cool."
It adds: "I may not be Muslim, but I continue to share my experiences with my American friends and family on what a beautiful religion Islam is and what living in the Middle East is like, in hopes of stopping the phobia of Islam that many Americans have."
Below is a screenshot comparison of the video shared in a false context on Facebook (left) and the original video (right):

Screenshot comparison of the video shared in a false context on Facebook (left) and the original video (right):
Visual features in the footage correspond to installations at The Dubai Mall in October 2012.
An exhibition stall of French jewellery firm Van Cleef & Arpels seen in the video corresponds to a photo of a stall that the firm posted on its official Facebook page in October 2012.
"The Poetry of Time exhibition by Van Cleef & Arpels at the Grand Atrium in The Dubai Mall until October 20th, 2012," it said in the Facebook post from October 18, 2012.
The Dubai Mall also posted photos of the exhibition on Facebook on October 14, 2012, saying it was located in the mall's Grand Atrium.
Scenes in the video (below left) correspond to The Dubai Mall's Facebook photos from October 2012 (below right):
Installations at The Dubai Mall seen in the video (left) and in photos from the mall's Facebook page (right)