'Twitter files' release fuels misleading Arizona election rigging claims
Social media influencers and Republican politicians are citing Twitter documents released by Elon Musk to claim Arizona governor-elect Katie Hobbs censored her opponents and interfered in the 2022 US midterm elections. This is misleading; the Democratic secretary of state's office flagged two false tweets to a non-profit months before she announced her candidacy, and Arizona elections are run at the county level.
"Unreal! Katie Hobbs's office contacts Twitter to have posts removed!" says a December 4, 2022 tweet from Christina Bobb, a far-right TV host now serving as an attorney for Donald Trump who was instrumental to the former president's attempts to reverse the results of the 2020 election.
"So, the democrat candidate, who ran the AZ election, censored her political opponents, disrupted Election Day votes, and then threatened counties with prosecution if they didn't declare her the winner."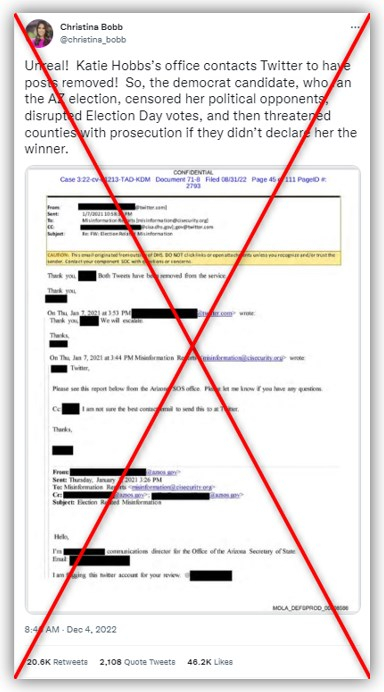 Screenshot from Twitter taken December 8, 2022
Bobb's post, which was widely shared across Twitter and other platforms including Instagram and Facebook, follows Musk's disclosure of internal documents surrounding Twitter's content moderation decisions in 2020 about a story on President Joe Biden's son, Hunter.
The leaked email sent by a staffer for Hobbs' office prompted an avalanche of claims from conservative commentators and lawmakers accusing Hobbs of suppressing free speech and taking other actions to rig her race for governor against Republican Kari Lake.
"Conflict of Interest, Coercion, Corruption," Lake wrote in a retweet of Bobb's post.
Congresswoman Marjorie Taylor Greene called for a federal investigation into Hobbs, saying she "used the power of the AZ SOS to collude with Twitter to unconstitutionally violate 1st Amendment rights of Americans for her own political gain." Fox News host Tucker Carlson accused Hobbs of illegally "influencing the outcome of elections" and committing "a very serious crime." And Kelli Ward, chair of the Republican Party of Arizona, penned a letter to the state's attorney general claiming Hobbs "pressured Twitter to remove posts while she was running to become Governor of Arizona."
But the email exchange -- an unredacted copy of which was obtained by AFP -- shows those claims are misleading.
"This is yet another example of conspiracy theorists trying to create chaos and confusion by casting doubt on our election system," said Allie Bones, Arizona's assistant secretary of state, in a statement.
What the emails show
The emails are dated January 7, 2021 -- months before Hobbs announced her campaign for governor in June 2021.
According to the emails, the communications director for the secretary of state's office flagged a Twitter account and two of its tweets to the Center for Internet Security (CIS), a non-profit cybersecurity organization that supports elections offices. CIS then forwarded the tweets to Twitter, which removed them.
"I am flagging this twitter account for your review," the 2021 note to CIS said. "These messages falsely assert that the Voter Registration System is owned and therefore operated by foreign actors. This is an attempt to further undermine confidence in the election institution in Arizona."
The account in question had 21 followers and said in its bio, "Stop them from stealing." The two deleted tweets targeted a contractor that worked to develop Arizona's voter registration database. "Is our entire election system foreign owned," one said.
"This email exchange is from January 2021," Bones said. "Not only was it taken entirely out of context, it has nothing to do with this year's midterm election."
Bones said: "It is standard practice for government entities, organizations, and corporations alike to report content on social media that violates a platform's terms of service. It's the Secretary of State's job to make sure that voters are informed about how to vote and how our election system works. One of the ways we do that is by working to counter disinformation online that can confuse voters."
The tweets were flagged as part of a CIS project meant to free elections offices in 2020 from having to spend time navigating the different procedures social media companies have for reporting such content, according to a CIS statement emailed to AFP.
It added: "The decision to act with regard to the reported content rests with the social media platform."
Ellen Goodman, co-director of the Rutgers Institute for Information Policy and Law, said alerting CIS to election misinformation "doesn't seem to have crossed the line" into silencing political opponents or violating the US Constitution's First Amendment protections of free speech.
"Sometimes government pressure can be a First Amendment issue if they're really strong-arming media or social media, but this doesn't sound like it was," Goodman said. "This was like a request. There's no threat, it doesn't seem to be a persistent thing. And also, there's not much that the state of Arizona can do to Twitter. "
Hobbs's role in the election
Hobbs did not recuse herself from overseeing Arizona's midterms, despite calls from Lake to do so. But claims that she "ran the AZ election" and "disrupted Election Day votes" are misleading.
Elections in Arizona are decentralized and administered at the county level.
"Arizona's counties independently conduct the election, including tabulating results and providing a full accounting of all ballots cast in the county," said Matt Roberts, spokesman for the elections department in Maricopa County, which includes Phoenix. "The Secretary of State's office does not administer Election Day voting in Maricopa County or handle any voted ballots."
The Arizona secretary of state works to boost voter participation while also certifying election results, voting devices and the candidates and measures on the ballot, according to the office's website.
Officials have in the past overseen elections while running for higher office, including Georgia's Republican Governor Brian Kemp, who ran for the seat in 2018 while he was secretary of state.
Numerous other secretaries of state also sought re-election in 2022, putting their names on the ballot in states including Georgia and Michigan. Rhode Island Secretary of State Nellie Gorbea ran for governor but was eliminated in her state's Democratic primary.
Lake and others have faulted Hobbs for issues in Maricopa County, where printer problems at some voting centers forced people to wait in line, visit other voting locations or leave their ballots in secure boxes for transfer and counting elsewhere.
But the county's Republican officials have said all votes were counted correctly -- and Hobbs was not responsible, the county told AFP.
"Claims that the Secretary 'disrupted Election Day votes' are false," Roberts said. "Counties independently administer elections."
Hobbs signed paperwork to certify Arizona's election results December 5. She defeated Lake, who has not conceded, by more than 17,000 votes.
Legal challenge against Cochise County
Hobbs' office sued Arizona's Cochise County, in the state's southeast corner, after Republican members of its board of supervisors voted to blow past the deadline for Arizona counties to certify results.
A judge ordered the county to certify its results, ending the standoff that reports said could have jeopardized two Republican victories.
Lake won Cochise County by more than 8,000 over Hobbs, per the county's canvass of results.
AFP previously debunked other misinformation about Hobbs here.