Photo shows Arizona election observer, not Democratic candidate for governor
Social media users claim an image shows Arizona Secretary of State Katie Hobbs, the Democratic candidate for governor in the US state, watching ballot-counting the morning after the midterms. This is false; Maricopa County said the photo shows an election observer -- not Hobbs, whose office and campaign confirmed it is not her.
"LOOK WHO WAS INSIDE THE BALLOT ROOMS. KATIE HOBBS. Timed Stamped too," says a November 10, 2022 post on Gab, a social media platform catering to conservatives.
The post is one of dozens surfaced to AFP by VineSight, a firm that uses artificial intelligence to detect potential online misinformation. Screenshots have been shared across platforms such as Twitter, Facebook, Instagram and Truth Social.
"RiGiGeD ELeCtiOn!!!!" says an Instagram post sharing the image.
Screenshot from Gab taken November 14, 2022
Katie Hobbs, a Democratic candidate for Arizona governor, walks on stage during a campaign event with former US president Barack Obama and US Senator Mark Kelly in Phoenix, Arizona on November 2, 2022 ( AFP / Patrick T. FALLON)
Hobbs is facing off with Republican Kari Lake to become Arizona's next governor. A winner had not been declared as of 2200 GMT on November 14.
The secretary of state did not recuse herself from overseeing Arizona's midterm elections, despite calls from Lake to do so. But the person in the photo circulating online is not Hobbs.
The image shows someone with brown hair, a white top, burgundy pants and glasses. It appears to be a screenshot showing a November 9 livestream of the Maricopa County Tabulation and Election Center in Phoenix.
An AFP photo captured inside the facility that day appears to show the same person.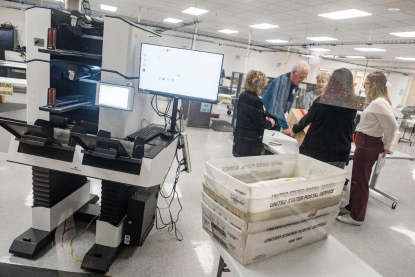 Election workers handle ballots for the US midterm election, in the presence of observers from both Democratic and Republican parties, at the Maricopa County Tabulation and Election Center in Phoenix, Arizona, on November 9, 2022 ( AFP / Olivier Touron)
In a November 10 tweet, the Maricopa County Elections Department refuted claims that the image shows Hobbs.
"Not every woman with glasses is Katie Hobbs," the department said. "We can confirm this was a party Observer. Please refrain from making assumptions about workers who happen to wear glasses."
Sophia Solis, deputy communications director for the secretary of state's office, confirmed that to AFP.
"It is obviously not Secretary Hobbs," Solis said in an email. "The Secretary of State does not design, print, send, or tabulate ballots. She was not in the Maricopa tabulation center."
A spokesperson for Hobbs' campaign also confirmed to AFP that the photo does not show the candidate.
During partisan elections in Arizona, representatives from different political parties are allowed to observe voting and ballot-counting locations, according to the secretary of state's website and the National Conference of State Legislatures. The observers check in with authorities, carry credentials and are forbidden from touching ballots or otherwise interfering with the election process.
Candidates on the ballot -- including Hobbs -- and official write-in candidates cannot be party observers, the secretary of state's website says.
AFP has debunked other misinformation targeting Maricopa County during the 2022 elections here and here, and claims about Hobbs here.