Video shows Koran recital at stadium ceremony one year before Qatar World Cup
A video has been viewed millions of times in social media posts that falsely claim it shows a Koran recital at the opening ceremony of the Qatar World Cup at the Al Bayt Stadium. While other footage from the ceremony shows a World Cup ambassador genuinely recited a verse from the holy text at the ceremony, the posts share a clip from a different Qatari stadium inauguration in October 2021.
The video shows a man leading a group of boys in a Koran recital and was shared here on Facebook on November 18.
"Qatar is the first Muslim country to host the FIFA World Cup. The tournament begins with recitations [dress rehearsal] from the Koran. #FIFAWorldCup #FIFAWorldCupQatar2022," the Urdu-language post reads.
The clip attracted more than three million views.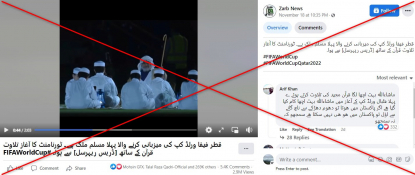 Screenshot of the false post, taken on November 21, 2022.
Different versions of the video were viewed more than 500,000 times in similar posts on Facebook, Twitter and TikTok.
The posts circulated as Qatar geared up to host the World Cup opening ceremony at the Al Bayt Stadium on November 20.
The Gulf state has spent $200 billion on a remarkable construction project to host the World Cup after it shocked the football world by winning the right to host the tournament in 2010.
But while World Cup ambassador Ghanim Al Muftah genuinely uttered a verse from the Koran during the ceremony, the video circulating on social media was filmed in October 2021.
Old stadium clip
A reverse image search found a longer clip with matching scenes in a YouTube video posted by Qatari news outlet Alrayyan TV on October 22, 2021.
"The official inauguration ceremony of the Al Thumama World Cup Stadium | World Cup 2022 in Qatar," the video's Arabic-language title reads.
The footage seen in the false posts starts at the 02:45 mark of Alrayyan TV's video.
Below is a screenshot comparing a scene in the false posts (left) with the original clip (right):
Screenshots comparing a scene in the false posts (left) with the original clip (right)
The Koran recital can also be seen in a video of the stadium's inauguration published by Al Jazeera.
According to a FIFA statement, the Al Thumama Stadium in Doha was inaugurated on October 22, 2021 when it hosted the Amir Cup final, ahead of becoming a World Cup venue.
November 25, 2022 This article has been updated to correct the date of the video posted on Alrayyan TV's YouTube channel, based on the local Qatar time.