Scam posts tout unregistered supplements for stomach diseases and diabetes
False social media posts with more than one million views claim a well-known Filipino doctor has endorsed brands of food supplements for stomach diseases and diabetes. In reality, the posts show doctored videos taken from the YouTube channel of physician Willie Ong who made no such endorsements for the products. Health experts told AFP the food supplements -- which have not been approved by the Food and Drug Administration (FDA) in the Philippines -- have not been proven to cure or treat stomach diseases and diabetes.
One video touting a product called "Bio Stomach" was shared in a Facebook post on October 13. It features footage of Filipino physician Willie Ong talking about stomach illnesses, as well as clips of various people advertising the product.
Its Tagalog caption claims "Bio Stomach" can cure various stomach illnesses from ulcers and acid reflux to bleeding.
Ong gained popularity in 2008 after appearing in a weekly medical program on the television network ABS-CBN before unsuccessfully running for vice president in 2022.
He regularly gives medical advice on his Facebook and YouTube channels where he has more than 20 million combined followers.
Videos of Ong have been viewed hundreds of thousands of times here and here on Facebook alongside a similar claim before being deleted.
Other Facebook videos published here and here -- also viewed hundreds of thousands of times -- purport to show Ong promoting a milk product called "Gluzabet", purportedly an effective "home-based cure" for diabetes.
Ong is shown in the videos explaining the early signs of diabetes, while an advert for "Gluzabet" can be seen at the bottom of the screen.
Screenshots showing the false posts
Comments on the posts suggest users believed the claims and expressed their interest to purchase the products.
"How much is that, doc?" one user asked.
"Doc. Willie, is it okay to drink Gluzabet as a meal replacement?" another inquired.
However, Ong has not endorsed "Bio Stomach" or "Gluzabet".
The Philippine FDA has also said the products have not been tested for safety and should not be consumed.
Responding to the posts about "Bio Stomach", a representative for the FDA told AFP: "Please be informed that the product is not registered with this office as of November 2, 2022."
In an advisory dated October 4, the FDA also warned against the consumption of "Gluzabet".
"The agency cannot assure its quality and safety," the FDA advisory states.
Unproven remedies
Endocrinologist Dr Marjorie Ramos, vice president of the Philippine College of Endocrinology, Diabetes and Metabolism, told AFP drinking milk cannot cure diabetes.
"Milk cannot cure any disease," she said. "We give milk to diabetes patients as a meal replacement to control their calorie intake."
Diabetes is consistently among the leading causes of death in the Philippines.
Responding to claims that food supplements can cure stomach diseases, Dr Virgil Lo, a gastroenterologist from the Chinese General Hospital, told AFP the posts are "scamming people".
"These products are not scientifically proven safe and effective for curing stomach problems," he said.
"Food supplements that claim they are an all-natural cure or treatment for illnesses are scamming and misleading people."
Fabricated endorsements
Keyword searches on Ong's Facebook and YouTube channels have not found endorsements for "Bio Stomach" and "Gluzabet".
The videos shared in the false posts have been doctored to add references to the products.
The first clip was taken from a video published on Ong's YouTube channel on October 8, 2018.
The video is titled "Ulcer, Abdominal Pain and Gas pain - by Doc Willie Ong".
Nowhere in the video did Ong endorse "Bio Stomach" products. He only mentioned the possible causes of stomach and abdominal pains and encouraged his viewers to seek medical advice.
"You can't just drink any medicine. You can't just guess if you don't know the cause of the pain, I'm mentioning ten causes here. You'll destroy [your stomach] if you only guess," Ong is heard in the original video.
"If you are not sure, of course, you should go to a doctor, a gastroenterologist," Ong added.
The clip promoting "Gluzabet" was taken from a ten-minute video of Ong explaining the "Warning Signs of High Blood Sugar" posted on YouTube on April 7, 2022.
"Friends, let's talk about the signs that your blood sugar is rising. When it's going up, it might be leading to diabetes. So we want to detect it early to avoid complications," Ong is heard saying at the start of the video.
The video does not mention "Gluzabet" at any point.
Ong has been previously targeted by scam posts claiming he endorsed a skin growth removal cream.
He previously told AFP: "If an advertisement does not come out of my Facebook page, then we are not endorsing it."
Below are screenshot comparisons of the doctored videos in the false posts (left) and the original videos (right):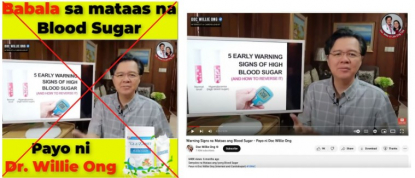 AFP previously debunked posts that contain fabricated endorsements from doctors here, here, here and here.